Strain Review: Sakuma Drops by Imperial Club x Mamey's Bodega
Sakuma Drops 🍇 🍊 🈲
Lineage/Genetics:[ Genetics Undisclosed ]
Original Breeder: Mamey's Bodega
Grower: Imperial Club x Mamey's Bodega
Terpene Profile: Unknown
Sakuma Drops Cannabis Cultivar (Strain) Review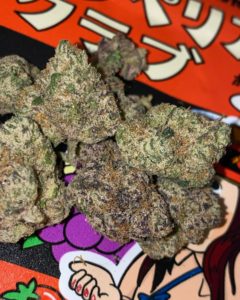 Powered By: @mameysbodega_la
Cultivated By: @imperialclub_official X @mameysbodega_la
Class: Branded Exotic [SoCal]
Flavor Line: Self-titled Line
"Sakuma Drops came in and took everyone by absolute storm. We made a promise not to release anything unless it was completely up to par."
– Mamey's Bodega
Smell | Flavor:
Sakuma Drops is pretty wild, and very distinct. As you crack it open, you get the smell of a powder fruit candy, as these gas and grape terps fill your lungs. There's this deepened Citrus that follows the sweet, and all around you'll find yourself drifting. Very enjoyable. As you pearl it up, that nice relaxed flavor hits your palate the same as your nose, making you even a bit blissful before the spark.
The High:
I'm the first few pulls are pretty captivating, with those citrus grape notes now more apparent than the sweetness of the flower. This pull is smooth, but gives you a nice punch, and you should immediately feel yourself let go of any strain or stress you've held onto. You'll feel a spark of caryophyllene as it starts to hit you mental, chillin you out as if it's lavender. Right up towards the end, you'll have a nice weightless feeling omitting from you. In all a distinct experience.
Dope's Thoughts:
Overall, some pure pack from the Mamey's gang. So far the Sakuma is my favorite of the drops, with the original leading in second, and a dope 2-3 hour high. With this though, I feel as if the terpene difference is apparent, and the strike is clean and constant. Definitely dope, and nearly gets an 8.
This gets a 7.8/10 from me 💯
#cannabislifestyle #craftcannabis #cannabisclub #nftgallery #cannabis420 #cannabiseducation #cannabisismedicine #cannabislove #cannabisdestiny #cannabisconnoisseur #cannabisreview #hitdemfolks #organiccannabis #cannabisart #hitthatbitforthegram #sakumadrops #weedzao #indicahead #terpymf #mameysbodega #newyorkcannabis
DOPE, THE REVIEWER!
Now Featured on The Highest Critic ⭐️
Young Mogul 👺 DMV ‼️
Culture Artist & Cannabis Reviewer. Creator of // #DOPAMINE 🧠
Advertisements