Strain Review: Mamey's Milk by Mamey's Bodega
Mamey Milk by @mameys_bodega and @b_eazybuds3.0
Lineage/Genetics: Lemon Cherry Pheno
Original Breeder: Mamey's Bodega
Grower: Mamey's Bodega
Mamey's Milk Strain Review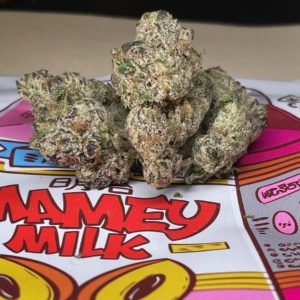 Aroma: man let me start off by saying the terps hit you as soon as you open the bag on this one. Sharp yet subtle orangey citrus terps mingle with a pastry like smell. My partner put it best when they said it reminded them of a basbousa (a turkish sponge cake that has an orange flower based syrup on it).
Taste: once I was able to finally take my nose out of the bag and stop huffing it I rolled it up for the taste test. Quick side note, it rolls beautifully in a joint. Igniting it really brought out the candy terps, making it taste like a vibrant orange candy with hints of dough on the backend. Honestly the dominant taste reminds me a lot of those orange Altoids that got discontinued a little while back (you know the ones). Sharp, slightly sour, but with a sweetness that sings through and lingers on the tongue even after you're finished smoking. All in all delightful taste from the tip of the joint to the filter, and that my friends is hard to find.
Effects: Have you ever smoked something and instantly felt it in your eyes? Well that's where this one started for me as it slowly crept up with a full body relaxation that had me chillin bigggg time. I'm not gonna lie I was having a pretty stressful day but as soon as the mamey milk started kicking in I felt all my tension disappear and I felt more at peace than I have in a long time. I'm talking SERIOUS anxiety relief. I smoked this by the beach and someone walked by with their dog and everything was quiet except for the slight jingle of the dog tags on its collar and I swear in that moment I felt like everything was right in the world.
Overall: this was a top tier smoke, it burned nice and white, smooth on the inhale while being tasty from start to finish, wonderful taste, exceptional high, and I love the bag design and the people backing up the bud, definitely a must cop.
#mameymilk #strainreview
Advertisements