Strain Review: Peaches and Cream by Fresh Baked
Peaches and cream by @krd_inc and the team at @fresh_baked__
Lineage/Genetics: Unknown
Original Breeder: Fresh Baked
Grower: Fresh Baked (Krd)
Peaches and Cream Strain Review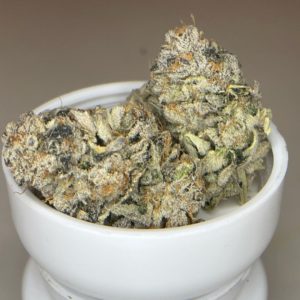 Genetics: so this ones tricky, if you look online you'll find plenty of hits for the peaches and cream strain by Big Buddha Seeds which is a sativa dominant skunk pheno. From what I've been told this isn't that peaches and cream, it's a different sativa dominant peaches and cream and fresh baked hasn't dropped genetic info from what I've seen.
Aroma: white peach, dried apricots, and a very particular type of umami I normally associate with fruit leather
Taste: after taking a hearty whiff I was sure I was in for something insanely tasty, and while peaches and cream definitely has a nice taste and is overall a pleasant smoke, I was a little disappointed when my tastebuds weren't overwhelmed in the way my nose was by this one. Subtle peach notes give way to a toasted almost nutty flavor on the backend leaving a slightly sweet oily flavor on the tongue.
Effects: while I was a little disappointed by the taste I was pleasantly surprised by the effects! Its worth noting that I've had peaches before and wasn't really blown away, but this batch hit different. I found that this one engaged my mind without piquing my anxiety and had me talking up a storm, it's the kind of high that has you grinning from ear to ear as you go on an unnecessarily long tangent about hash brown texture (crispy on top but soft on the inside obviously being the ideal)
Overall: I'm not going to lie, I have a love hate relationship with fresh baked, they don't have the best quality control and I've definitely received some whack jars in the past. I also have definitely had experience with their stuff smoking harsh and burning grey, but this jar is a good example of how good their bud can be, sticky as hell, burned clean, smooth taste and smoke, and overall a great high. I'm not necessarily grabbing this one again anytime soon but I can definitely say I enjoyed it.
#strainreview #cannaseur #freshbaked #lbc #peachesandcream
Advertisements