Strain Review: Sky Pilot by Tantalus Labs
Enjoying @tantaluslabs Sky Pilot pre-rolls on this snowy weekend.
Lineage/Genetics: Blue Dream
Original Breeder: Tantalus Labs
Grower: Tantalus Labs
Sky Pilot Strain Review
I love love love @tantaluslabs Sky Pilot ✈️ The buds were a good size and covered in trichomes. It was pretty dry but also packaged 6 months ago, I put a @bovedacannabis pack in the container and that quickly solved the dryness. The effects for me were uplifting and happy, perfect for after work or when you need some help with stress. I'm a huge fan of all Tantalus products, however I was disappointed to find about 7 seeds in this eighth. It didn't seem to effect anything, however when you're paying premium price for bud I'd like to see no seeds 🤷🏼‍♀️
Sky Pilot Pre-Roll Review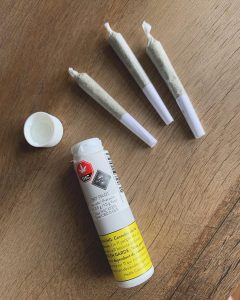 It's barely started and I'm already questioning myself why I live in a place where the air hurts my face.
Then I remember weeds legal…. #worthit 💁🏼‍♀️🥶 •
#Skypilot is an indica dominant, blue dream cross.
It gives a nice body high, mellow and relaxed without couch lock.
This is a great rainy/snowy day strain or watching a movie, having sex, reading, video games, music or meditating.
Medically, this was great for anxiety and pain. •
Tantalus is based in BC and use natural resources like rain water and full spectrum sunlight in their greenhouse.
I've enjoyed all the tantalus products I've tried, I think they're doing a great job producing quality product while staying committed to sustainable cultivation.
They're pesticide free, using multiple types of bugs to ward off any predators.
Also, they've done a pretty good job on the pre-roll packaging 👏🏻