Strain Review: The Judge by Claybourne Co.
Strain: The Judge
Lineage: I could not confirm the lineage of this strain but it is said to be of Chem Dawg descent.
Genetic Type: Indica Hybrid
Cannabinoids: Total: 41.48% THC: 34.18% CBD: 0.0%
Harvest/Package Date: 2/11/22
Brand: Claybourne Co. @claybourne_co
Terpene Profile: Unknown
Dispensary: The Nugg Club @thenuggclubbox
The Judge Cannabis Cultivar (Strain) Review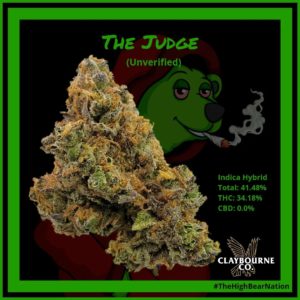 Look: 1 large nug, 3 medium nugs and a couple popcorn nugs filled this jar to an impressive 3.61 Gs overshooting the 3.5 mark! Was mostly mid to dark green but I did have one bud in the jar that was definitely more of a deep purple undertone. Absolutely covered in glistening sticky trichomes and long wild rust orange pistils.
Scent: Once I popped seal under the jar lid I was hit with a sort of sweet and funky coffee aroma with an earthy undetone and a diesel finish. Very pungent when broken up, releases more of the musty earthiness and diesel coffee aromas.
Flavor: The fresh musty earth smell definitely carries over to the flavor with hints of a sort of chocolate or hazelnut. Can taste the coffee on the exhale, kind of lingers on the tongue. Has sort of a spiciness on the inhale that tickles the throat.
Effects: Big pressure in the lungs and heavy feeling in the eyes. Very calm and chill, not necessarily sleepy but definitely relaxed. Everything just feels a little slower, movements, speech, thoughts. Has some nice pain and muscle soreness relieving effects. I would consider this a "End of Day" or "Weekend" smoke, not necessarily something you wanna hit first thing in the morning before having to work but would be great for when you want to unwind and chill.
𝔸𝕝𝕝 𝕡𝕣𝕠𝕕𝕦𝕔𝕥𝕤 𝕡𝕠𝕤𝕥𝕖𝕕 𝕨𝕖𝕣𝕖 𝕠𝕓𝕥𝕒𝕚𝕟𝕖𝕕 𝕗𝕣𝕠𝕞 𝕒 𝕃𝔼𝔾𝔸𝕃/𝕃𝕀ℂ𝔼ℕ𝕊𝔼𝔻 ℂ𝔸𝕃𝕀𝔽𝕆ℝℕ𝕀𝔸 𝔻𝕀𝕊𝕋ℝ𝕀𝔹𝕌𝕋𝕆ℝ 𝕒𝕟𝕕 𝕒𝕣𝕖 𝕤𝕙𝕒𝕣𝕖𝕕 𝕗𝕠𝕣 𝔼𝔻𝕌ℂ𝔸𝕋𝕀𝕆ℕ𝔸𝕃 𝕒𝕟𝕕 𝔻𝕆ℂ𝕌𝕄𝔼ℕ𝕋𝔸𝕋𝕀𝕆ℕ 𝕡𝕦𝕣𝕡𝕠𝕤𝕖𝕤 𝕠𝕟𝕝𝕪. 𝔹𝕖 𝕤𝕦𝕣𝕖 𝕥𝕠 𝕗𝕠𝕝𝕝𝕠𝕨 @NorCalCannaBear 𝕗𝕠𝕣 𝕞𝕠𝕣𝕖!
.
.
.
.
.
#NorCal #CannaBear #TheHighBearNation #CannabisCommunity #CannabisCulture #CannabisReview #WeedReview #TheSmokersClub #420 #420Daily #420Community #PremiumCannabis #LuxuryCannabis #CannabisIndustry #CannabisPics #WeedPics #PotPics #PuffPuffPass #California #CaliforniaDispensary #BayArea #BayAreaCannabis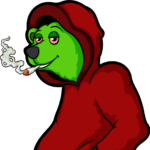 14+ year long Med/Rec Cannabis user from the Bay Area, California. Providing my honest opinion of cannabis products ranging from economical to top shelf. Follow me on Instagram @norcalcannabear
Advertisements