Strain Review: Delusion by Fig Farms
Strain: Delusion
Lineage: 6ixth Sense X Figment 8 #6
Genetic Type: Hybrid
Breeder: Fig Farms
Cultivator:  @fig.farmer @lady__fig @pager.payphone
Brand: Fig Farms @fig.farms
Cannabinoids: THC: 34.72% CBD: 0.07% Total: 43.55%
Package Date: 12/29/22
Dispensary: Bloom Room Pacifica
Delusion Cannabis Cultivar (Strain) Review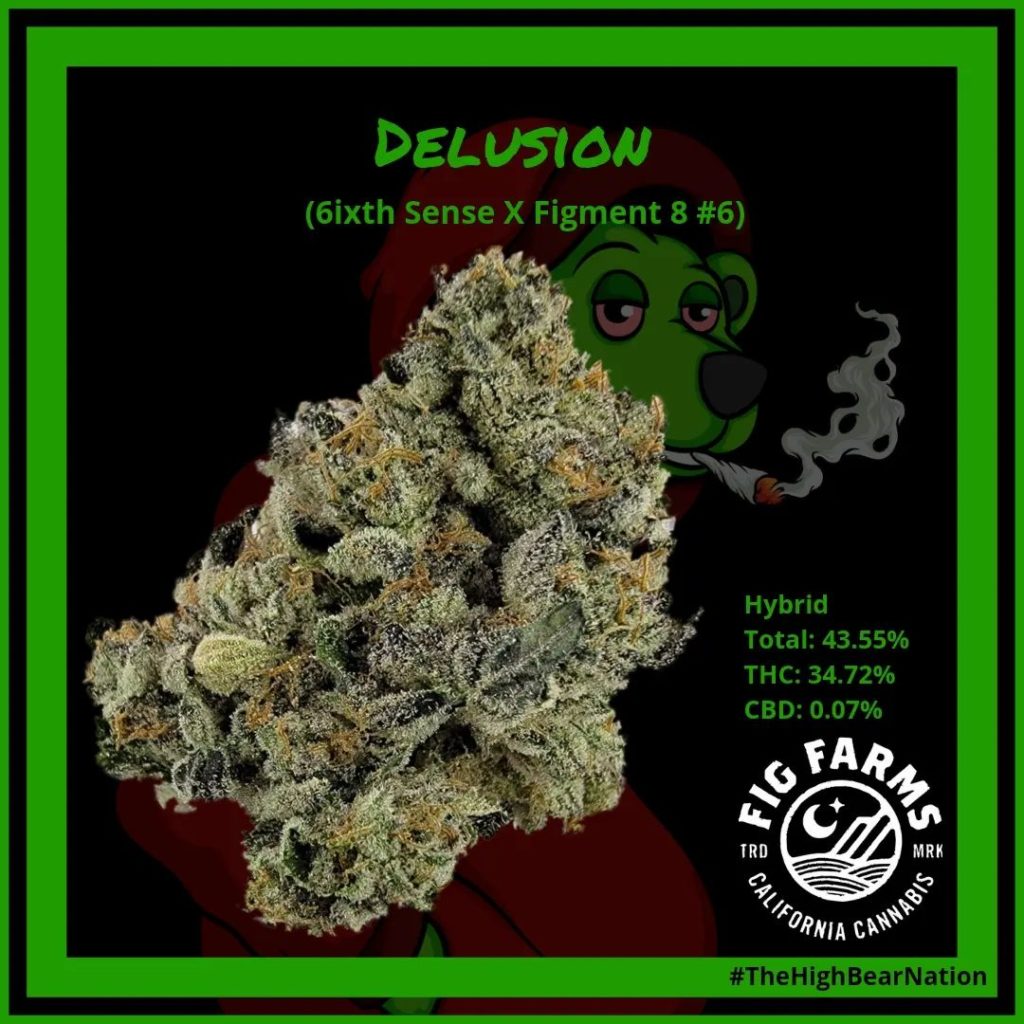 Look: 1 large nug and 2 small nugs filled this jar to 3.55 Gs. The nugs were very robust and dense with a thick covering of frosty white sticky trichomes that really pop against the dark greens and rich lavenders of the calyxes beneath them also highlighting the wild amber pistils that weaved themselves all throughout the buds
Scent: Initially when I popped the top I was hit with a skunky, earthy and hoppy aroma with a floral/herbal backend, almost like a cross of rose petals and fresh cut grass. When ground up the aroma started to have a sort of sweet lemongrass smell, slight hint of gas with a very clean green vegetable after note, almost lot a shot of wheatgrass but less pungent.
Flavor: Very smooth smoking experience. Upfront you get a earthy hops on the inhale. On the exhale it's more of a green juice and wet rag funkiness with a slight lemony sweetness. The aroma of the burning bowl reminds me of acetone but it does not come through in the flavor.
Effects: This was a pretty balanced hybrid experience for me with a slight nudge toward the sativa side of things. Very much a cerebral, floaty, happy head high with the ability to focus on the task at hand while also providing some nice full body relaxation to relieve some muscle tension and soreness. This is absolutely perfect for a daytime smoke in my opinion, stoney enough to block outside distractions while allowing you to focus on the project at hand and providing some mild body relief that won't leave you feeling couchlocked.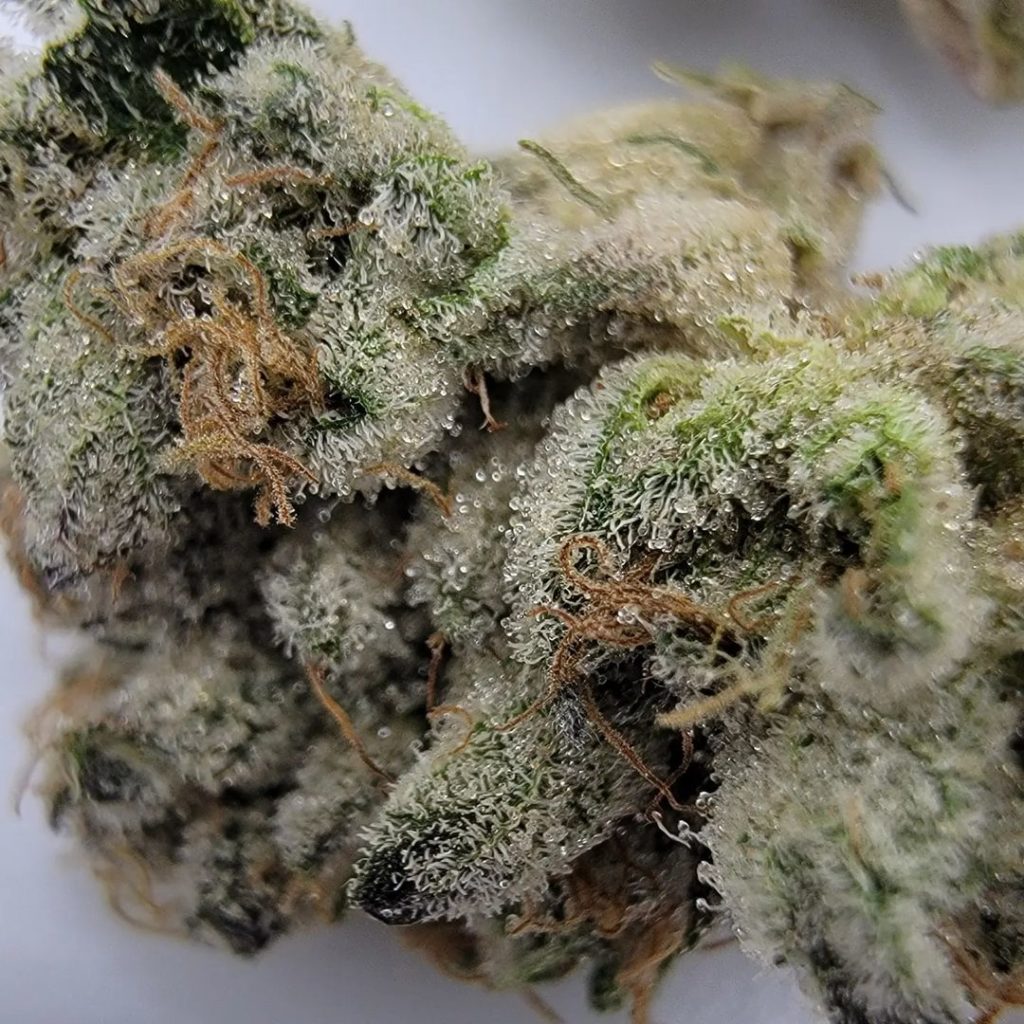 .
.
.
.
.
𝔸𝕝𝕝 𝕡𝕣𝕠𝕕𝕦𝕔𝕥𝕤 𝕡𝕠𝕤𝕥𝕖𝕕 𝕨𝕖𝕣𝕖 𝕠𝕓𝕥𝕒𝕚𝕟𝕖𝕕 𝕗𝕣𝕠𝕞 𝕒 𝕃𝔼𝔾𝔸𝕃/𝕃𝕀ℂ𝔼ℕ𝕊𝔼𝔻 ℂ𝔸𝕃𝕀𝔽𝕆ℝℕ𝕀𝔸 𝔻𝕀𝕊𝕋ℝ𝕀𝔹𝕌𝕋𝕆ℝ 𝕒𝕟𝕕 𝕒𝕣𝕖 𝕤𝕙𝕒𝕣𝕖𝕕 𝕗𝕠𝕣 𝔼𝔻𝕌ℂ𝔸𝕋𝕀𝕆ℕ𝔸𝕃 𝕒𝕟𝕕 𝔻𝕆ℂ𝕌𝕄𝔼ℕ𝕋𝔸𝕋𝕀𝕆ℕ 𝕡𝕦𝕣𝕡𝕠𝕤𝕖𝕤 𝕠𝕟𝕝𝕪. 𝔹𝕖 𝕤𝕦𝕣𝕖 𝕥𝕠 𝕗𝕠𝕝𝕝𝕠𝕨 @NorCalCannaBear 𝕗𝕠𝕣 𝕞𝕠𝕣𝕖!
14+ year long Med/Rec Cannabis user from the Bay Area, California. Providing my honest opinion of cannabis products ranging from economical to top shelf. Follow me on Instagram @norcalcannabear
Advertisements