Gush Mints Live Resin Infused Pre-roll by CHEMISTRY.
Strain: Gush Mints Live Resin Infused Pre-roll
Lineage: Kush Mints X Durb X Gushers
Genetic Type: Indica
Cannabinoids: THC; 37.5% CBD 0.0%
Harvest/Package Date:
Cultivator: Foothill River Farms @foothill_river_farms
Brand: Chemistry @trychemistry
Dispensary: The Nugg Club @thenuggclubbox
Gush Mints Infused Pre-roll Review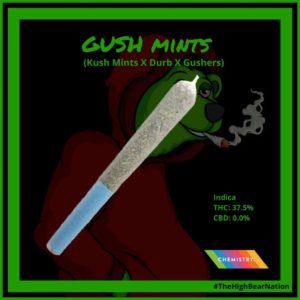 Look: Fun bright colorful tin case with a dual button release. Holds 4 pre-rolls with blue tips in their own individual slots. Well packed joints, the one I gutted on video hit the .66 Gs mark, the others weighed the same or near to hit the overall 2.6 Gs mark. 3 small stem bits and 3 leaf membranes made themselves visible when gutting this particular joint, nothing too over the top in my opinion. The herb itself felt just a little bit on the dry end, not much stickiness to it but not so dry that it turned to dust between the fingers. Definitely looks like nug was used but I wouldn't say premium/top-shelf, more mid tier. The burn was a bit darker than I would typically like, there was some white, mostly mid to dark greys with some black spotting, the rolling paper used could be a contributing factor to the discoloration.
Scent: Got kind of a minty herbal mustiness with a citrus finish, not overly aromatic.
Flavor: On the dry pull you get a slightly skunky and musty citrus with hints of eucalyptus. When lit the eucalyptus is a bit more amplified followed by the musky earthiness of the kush. Get a slight floral perfume flavor further into the joint.
Effects: Nice immediate relaxation effects, has me feeling very mellow. Muscle soreness definitely lowered but still there. As the high settles it I can feel some slight pressure behind the eyes with a very mild euphoric head high. Still pretty clear headed but feeling very chill. Can see this being a good "Movie Time" smoke, something to light up when you want to chill but still be alert enough to follow along.
𝔸𝕝𝕝 𝕡𝕣𝕠𝕕𝕦𝕔𝕥𝕤 𝕡𝕠𝕤𝕥𝕖𝕕 𝕨𝕖𝕣𝕖 𝕠𝕓𝕥𝕒𝕚𝕟𝕖𝕕 𝕗𝕣𝕠𝕞 𝕒 𝕃𝔼𝔾𝔸𝕃/𝕃𝕀ℂ𝔼ℕ𝕊𝔼𝔻 ℂ𝔸𝕃𝕀𝔽𝕆ℝℕ𝕀𝔸 𝔻𝕀𝕊𝕋ℝ𝕀𝔹𝕌𝕋𝕆ℝ 𝕒𝕟𝕕 𝕒𝕣𝕖 𝕤𝕙𝕒𝕣𝕖𝕕 𝕗𝕠𝕣 𝔼𝔻𝕌ℂ𝔸𝕋𝕀𝕆ℕ𝔸𝕃 𝕒𝕟𝕕 𝔻𝕆ℂ𝕌𝕄𝔼ℕ𝕋𝔸𝕋𝕀𝕆ℕ 𝕡𝕦𝕣𝕡𝕠𝕤𝕖𝕤 𝕠𝕟𝕝𝕪. 𝔹𝕖 𝕤𝕦𝕣𝕖 𝕥𝕠 𝕗𝕠𝕝𝕝𝕠𝕨 @NorCalCannaBear 𝕗𝕠𝕣 𝕞𝕠𝕣𝕖!
.
.
.
.
.
#NorCal #CannaBear #TheHighBearNation #CannabisCommunity #CannabisCulture #CannabisReview #WeedReview #TheSmokersClub #420 #420Daily #420Community #PremiumCannabis #LuxuryCannabis #CannabisIndustry #CannabisPics #WeedPics #PotPics #PuffPuffPass #California #CaliforniaDispensary #BayArea #BayAreaCannabis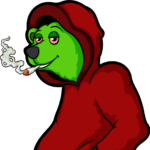 14+ year long Med/Rec Cannabis user from the Bay Area, California. Providing my honest opinion of cannabis products ranging from economical to top shelf. Follow me on Instagram @norcalcannabear
Advertisements