Strain Review: Lava Cake by Canndescent
Strain: Calm 134 Aka Lava Cake
Lineage: Thin Mints GSC X Grape Pie
Genetic Type: Indica Hybrid
Cannabinoids: Total 36.96% THC: 35.11% CBD: 0.21%
Breeder: Cannarado Genetics @reallycannarado
Harvest/Package Date: 1/19/22
Cultivator: Canndescent @canndescent
Brand: @canndescent
Dispensary: Lytt @lytt_ca
Canndescent Lava Cake Cannabis Cultivar (Strain) Review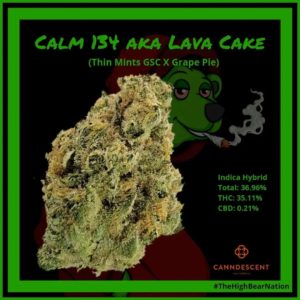 Look: 9 medium nugs of equal size filled this jar to 3.62 Gs surpassing the 3.5 mark. These nugs were all fairly uniform in size and shape, I would attribute that to Canndescent's growing methods/standards. Nice dense nugs of bright light greens and rich mid greens blanketed in off white trichomes and thin pale orange pistils.
Scent: Has a sweetness to it kind of like a dark cola but more tangy; sugary and syrupy with a hint of caramel. Notes of some floral freshness and a very slight cocoa in the backend. When ground up it releases more of the cocoa aroma kind of giving it a tootsie roll scent but with a tangy gas finish.
Flavor: At first I got a floral perfume up front with a musky earthiness. That was followed up by slight spiciness and sweet, gassy, chocolate flavor.
Effects: Just as the name suggests this was very calming up front. Nice full body relaxation, pain relief and sedation effects. As the high settles in more I started to get kind of floaty in the head, happy and euphoric but not focused. This was definitely an "End of Day" smoke for me, didn't necessarily knock me out but it did get me in a mellow state and ready for bed.
𝔸𝕝𝕝 𝕡𝕣𝕠𝕕𝕦𝕔𝕥𝕤 𝕡𝕠𝕤𝕥𝕖𝕕 𝕨𝕖𝕣𝕖 𝕠𝕓𝕥𝕒𝕚𝕟𝕖𝕕 𝕗𝕣𝕠𝕞 𝕒 𝕃𝔼𝔾𝔸𝕃/𝕃𝕀ℂ𝔼ℕ𝕊𝔼𝔻 ℂ𝔸𝕃𝕀𝔽𝕆ℝℕ𝕀𝔸 𝔻𝕀𝕊𝕋ℝ𝕀𝔹𝕌𝕋𝕆ℝ 𝕒𝕟𝕕 𝕒𝕣𝕖 𝕤𝕙𝕒𝕣𝕖𝕕 𝕗𝕠𝕣 𝔼𝔻𝕌ℂ𝔸𝕋𝕀𝕆ℕ𝔸𝕃 𝕒𝕟𝕕 𝔻𝕆ℂ𝕌𝕄𝔼ℕ𝕋𝔸𝕋𝕀𝕆ℕ 𝕡𝕦𝕣𝕡𝕠𝕤𝕖𝕤 𝕠𝕟𝕝𝕪. 𝔹𝕖 𝕤𝕦𝕣𝕖 𝕥𝕠 𝕗𝕠𝕝𝕝𝕠𝕨 @NorCalCannaBear 𝕗𝕠𝕣 𝕞𝕠𝕣𝕖!
.
.
.
.
.
#NorCal #CannaBear #TheHighBearNation #CannabisCommunity #CannabisCulture #CannabisReview #WeedReview #TheSmokersClub #420 #420Daily #420Community #PremiumCannabis #LuxuryCannabis #CannabisIndustry #CannabisPics #WeedPics #PotPics #PuffPuffPass #California #CaliforniaDispensary #BayArea #BayAreaCannabis
14+ year long Med/Rec Cannabis user from the Bay Area, California. Providing my honest opinion of cannabis products ranging from economical to top shelf. Follow me on Instagram @norcalcannabear
Advertisements