Strain Review: Pink Ape by Foxy
Strain: Pink Ape
Lineage: Purple Gorilla X Bubblegum Kush
Original Breeder: Unknown
Genetic Type: Indica
Cannabinoids: THC: 35.63% CBD: 0.176%
Harvest/Package Date: 12/9/21
Cultivator: Foxy @foxy.usa
Brand: @foxy.usa
Dispensary: Amuse @amusenow2.0
Foxy Pink Ape Cannabis Cultivar (Strain) Review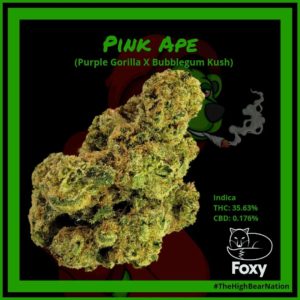 Look: 1 large nug, 3 medium, 3 small and 2 popcorn nugs brought this 1/8th to 3.5 Gs on the dot. The largest nug has a nice and dense natural looking structure. Light to medium greens all throughout covered in a dusting of yellow trichomes. The dark orange pistillates are practically camouflaged by the blanket of trichomes.
Scent: Hit with a tangy and tart sweet funky musk. Get sort of a sour fruit smell. Very slight hint of cherry and some floral scents. Breaking into the nug really releases a fresh dirt musty aroma that attaches itself to your fingers.
Flavor: The inhale is a fresh musty, sweet, and sort of sugary flavor. The first thing that comes to mind is a pack of pink Extra bubblegum that had been pulled out of a fresh bag of potting soil.
Effects: Very calming mellow head high. Got lost on a YouTube deep dive into nothingness lol. Totally lost track of time with this one. Wasn't necessarily couchlocked but did get hyper focused on binging random videos. Felt kind of floaty and happy, good pain relief in lower back and shoulders.
.
.
.
.
.
𝔸𝕝𝕝 𝕡𝕣𝕠𝕕𝕦𝕔𝕥𝕤 𝕡𝕠𝕤𝕥𝕖𝕕 𝕨𝕖𝕣𝕖 𝕠𝕓𝕥𝕒𝕚𝕟𝕖𝕕 𝕗𝕣𝕠𝕞 𝕒 𝕃𝔼𝔾𝔸𝕃/𝕃𝕀ℂ𝔼ℕ𝕊𝔼𝔻 ℂ𝔸𝕃𝕀𝔽𝕆ℝℕ𝕀𝔸 𝔻𝕀𝕊𝕋ℝ𝕀𝔹𝕌𝕋𝕆ℝ 𝕒𝕟𝕕 𝕒𝕣𝕖 𝕤𝕙𝕒𝕣𝕖𝕕 𝕗𝕠𝕣 𝔼𝔻𝕌ℂ𝔸𝕋𝕀𝕆ℕ𝔸𝕃 𝕒𝕟𝕕 𝔻𝕆ℂ𝕌𝕄𝔼ℕ𝕋𝔸𝕋𝕀𝕆ℕ 𝕡𝕦𝕣𝕡𝕠𝕤𝕖𝕤 𝕠𝕟𝕝𝕪. 𝔹𝕖 𝕤𝕦𝕣𝕖 𝕥𝕠 𝕗𝕠𝕝𝕝𝕠𝕨 @NorCalCannaBear 𝕗𝕠𝕣 𝕞𝕠𝕣𝕖!
.
.
.
.
.
#NorCal #CannaBear #TheHighBearNation #CannabisCommunity #CannabisCulture #CannabisReview #WeedReview #TheSmokersClub #420 #420Daily #420Community #PremiumCannabis #LuxuryCannabis #CannabisIndustry #CannabisPics #WeedPics #PotPics #PuffPuffPass #California #CaliforniaDispensary #BayArea #BayAreaCannabis
14+ year long Med/Rec Cannabis user from the Bay Area, California. Providing my honest opinion of cannabis products ranging from economical to top shelf. Follow me on Instagram @norcalcannabear
Advertisements