Strain Review: Zurple Punch by High Noon Cultivation
Anyway, let's review the Zurple Punch from @high_noon_cult. I review them a lot. They're the best farm that @tetra.pdx carries and I will fight anyone on that.
Happy Mother's Day, everybody! It may surprise some of you to know that I, myself, have a mother. Just a little personal tidbit for you.
Lineage/Genetics: Zkittlez x Purple Punch
Original Breeder: In House Genetics
Grower: High Noon Cultivation
Dispensary: Tetra Cannabis
Zurple Punch Strain Review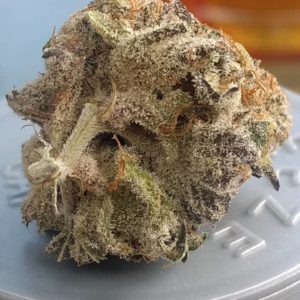 The bud is gorgeous. My photography skills and shitty camera can't convey how nice the nugs are. Super frosty with hints of purple when you look real close. Strongly sweet, but not necessarily fruity scent. It took me a solid week to put my finger on the anisette/black licorice note that shares the spotlight with the Blue Calypso lemonade that dyes your shit blue. There are hints of floral and herbal sweetness that round out the bouquet. Really interesting scent.
This is the best stuff for sleep I've gotten from High Noon. Very relaxing and happy, not too much of a cerebral mind fuck like some indica dominant strains are getting to be these days.
This is a really pleasant smoke for any time after the sun starts setting. I recommend literally anything from this farm, but this stuff especially. I'm really looking forward to the Sizzurp and Mendo Ultraviolet from them, as well.
Say "Hi" to your mother for me.
.
.
.
#thehighestcritic #highnooncult #strainreview #strainreviews #weedreviews #420review #portlandcannabis #OMMP #portlandweedreviews #mmj #oregoncannabiscommunity #portlandcannabiscommunity #oregonweedreviews #Medicate #oregoncannabis #mmjpatient #medicalmarijuana #weshouldsmoke #pnwstoners #wedontsmokethesame #higherthanmost #justblazeig #420lifestyle #cannabiscommunity #cannabisreviews
Advertisements