Strain Review: Plush Cake by Big Al's Exotics
PLUSH CAKE
By: @big.als.exotics
Lineage/Genetics: Birthday Cake x Plushberry
Original Breeder: Big Al's Exotics
Grower: Big Al's Exotics
Plush Cake Strain Review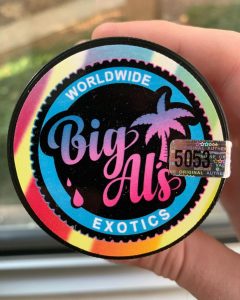 SWIPE ➡️ Imma let this one do the talking for itself!
Taste: Vanilla Cake and Dulce de Leche flavor with a hint of clove and spice.
Effect: Strong, fast acting Indica effect. Trance-like euphoric and spacey high. Highly enjoyable smoke and effect!
Rest assured @big.als.exotics did not disappoint! Plush Cake is Wedding Cake on steroids, from its crystal covered bud structure, to its vanilla cake and pepper finish. An all around amazing strain!
BIG Thanks to @firstclass.202 for the quality gift, and a special shoutout to @varepresenter for the assist! #Budfinder
•
•
•
•
#dcbud #dc420 #420 #dcweed #mdweed #stoner #marijuana #legalizedweed #dccannabisculture #strain #strainfinder #thc #dcgrown #dcgrowers #cannabisdaily #dccannabis #dcdabbers #throwbackthursday #puffpuffpass #dcnightlife #dmv420 #topshelf #devilslettuce #stoner #whiteashonly #plushcake #plush
Advertisements