Vape Review: Cannaid Triple Raw Distillate Cartridge
Good morning #trippiefam! Today let's talk about @medigreen.pr Cannaid Raw triple distillate cartridge.
Processor: Cannaid
Dispensary: MediGreen
Cannaid Raw Triple Distillate Cartridge Review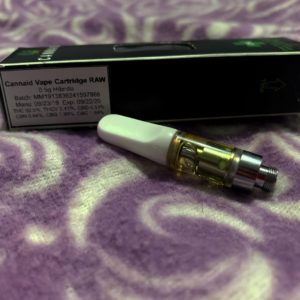 The most common question about this product is: Why is "RAW" if it's triple distillate?
This reason being because this concentrate is made so you feel bearly the sensetion of coughing. No extra terpenes added so you can feel the concentrate just right.
RATING
Consistency 3/5
Taste 4/5
Durability 2/5
Effects 4.5/5
Overall, this product gives an amazing effect and it lasts for a long time.
Because of it being a triple distillate, the Cannaid cartridge goes by so fast which is something I don't like in my carts. The taste is super smooth so you can keep puffing without coughing.
.
.
.
Have you tried CANNAID?
.
.
.
.
.
Remember to share if you enjoyed the info!
.
.
.
#cartridge #vape #cbd #cbdoil #cannabis #cartridges #cbdvape #vapelife #vapeshop #distillate #thc #vapepen #vapekl #saltnic #pod #cbdcartridge #cannabiscommunity #vapecartridge #extracts #hemp #weed #concentrates #carts #cbdvapepen #thccartridges #vapemalaysia #kingpen #ccell #society