Concentrate Review: Banana Hammock Distillate from Curaleaf
This Banana Hammock distillate from @curaleaf.usa was pretty good🔥.
Lineage/Genetics: Grape God x Mandarin Sunset F1
Original Breeder: Ethos Genetics
Grower: Curaleaf
Processor: Curaleaf
Dispensary: Curaleaf
Banana Hammock Distillate Review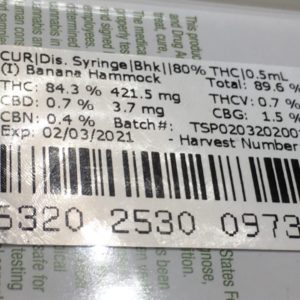 Very potent and a little harsh upon exhalation. I use freshly cleaned quartz buckets to drop into my 25mm banger, so I can easily tell which concentrates are causing more discomfort to me than others. This one was a bit harsh. Not sure if it's to do with terpene content, cannabinoid content, or residual solvent content. Nonetheless, I've been riding that solventless train lately anyways and absolutely loving it.
Yes it's more expensive. It's also much healthier. This stuff here we made legal in the past 5 or so years is supposed to be our medicine, and I don't want residual solvents, herbicides, pesticides, nonorganic nutrients, plant growth regulators, or anything besides cannabis in my medicine. Can't have residual solvents in a solventless extract. 😜End rant🤣
Back to the review lol. The buzz is relaxing, euphoric, pain-relieving, and a bit cerebral so I'd say this is more hybrid than indica. Fruity and skunky taste👌🏼. Would love to try the flower of this🌿.
THC: 84.3%
THCV: 0.7%
CBD: 0.7%
CBN: 0.4%
CBG: 1.5%
#indicadam #southflorida #cannabiscommunity #flmedicalmarijuana #floridamedicalmarijuana #legalcannabis #cannabis #strainreview #floridacannabiscommunity #flmmj #nugshot #medicalmarijuana #floridacannabiscoalition #floridacannabis #thc #mmjpatient #mmj #terps #terpenes #medicate #medicine #curaleaf #sativa #indica #hybrid #distillate #bananahammock
FL mmj patient
Cannabis advocate cataloging strains available to patients in beautiful Florida
Nothing for sale
18+ page only
Advertisements