Concentrate Review: Blue Dream Terp Sauce by Dabstract
Blue Dream (terp sauce) Gems N' Juice is so fun to dab and tastes so great with the 100% Cannabis-derived Terpenes juice the THC diamonds are swimming in.
Lineage/Genetics: Blueberry x Haze
Original Breeder: Unknown
Blue Dream Terp Sauce Review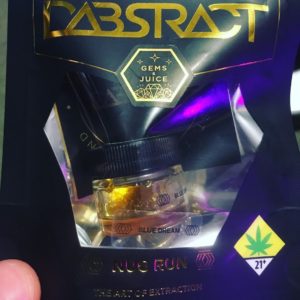 This means that the terp sauce only comes from cannabis plants and not from additives and fillers. This concentrate really is premium in every way possible, guarantying the best smoking experience. Gems n' Juice contains a wider terpene profile than cannabis concentrates from other extraction methods. The sauce is terpenes from "strain-specific" sources and the crystals are actively forming from THCA. The effects of this strain and concentrate form is a clear-headed, cerebral but well-balanced effect due to the high terpene content and blue dream strain. It is important to note that this form of concentrate is just the normal cannabinoids and terpenes of the plant, in their original, most whole form, taken off the flower with slight processing, and with the least amount of residual solvents left in the final product. The THCA crystals form during processing kinda like the science project of forming salt crystals on a paper clip suspended in water. Concentrates in this caviar form are not so great for dabbing from a nectar collector but are great for any nail at the lower temps. Because of extraction process, this type of concentrate tends to be about 10 dollars more expensive than a concentrate from a comparable bud.
#TerpSauce #THCA #LiveResin #HTFSE #HighTerpeneFullSpectrumExtract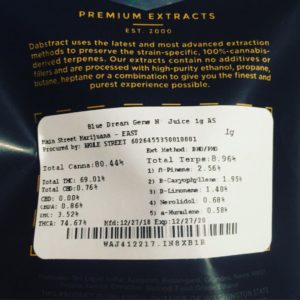 STRAIN: Blue Dream Caviar from Dabstract
AROMA: Piney. + Floral. with almost a little 'Glue' scent.
FLAVOR: Pungent forrest wildflowers in spring. Sour taste.
EFFECTS: Balanced head to body high.
CONSISTENCY: Caviar; THCA crystals in Terp Sauce
EXTRACTION METHOD: #BHO / #PHO
PRODUCER: Phat Panda @phatpanda
Procured by: AKULE STREET
PROCESSOR: DABSTRACT @labs_of_dabstract
FOLLOW: LABS OF DABSTRACT @labs_of_dabstract
.
.
.
.
.
#Terps #Terpenes #Cannabinoids #CBD #THC #i502 #710 #710society #Kush #420 #Weedstagram
Advertisements