Strain Review: Superfood by SF Cultivators
What a week.
2021 you are fucking NUTS
. @sfcultivators
. @lemonnadesacramento
. @trunorcal420_ (back up)
. @westcoastsmokeshow (squad)
Brand: SF Cultivators
Cultivar: Superfood
Lineage/Genetics: Açaí x Gelato x Kush Mintz 11
Original Breeder: SF Cultivators
Grower: SF Cultivators
Dispensary: Lemonnade Sacramento
Superfood Strain Review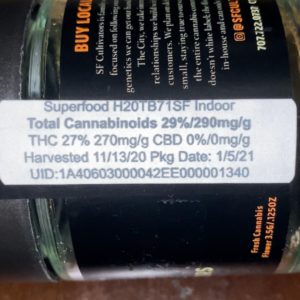 27%THC
0% CBD
29% Total Cannabinoids
Pkg Date: 1/5/2021
Harvest Date: 11/13/2020
Comments: Oh hell yes! I seen this in the Bay but not out here, so when Lemonnade scooped it I had to grab!
Review
1. Scent: A short berry nose to start then cream and subtle spice.
2. Appearance: Lots to appreciate on this gal. Fire orange red hairs, a literal ton of trichomes that gleam oh so nice in sunlight. Wow.
3. Nug Structure: NonFluff non dense nugs. Pulls apart with ease or grinding for joints, all the better.
4. Smoke: Clean deep smoke on the chest. Feeling great on exhale as the living room fills with clouds.
5. Taste: Interesting charcuterie of flavors: little gas to start and finish. Middle is a cool mint candle like sensation. Mouth is left a lil tingly, menthol-esque, if you will. Few days later, same smooth minty refreshment.
6. Reaction: Woo NFL weekend with this, even tho my 9ers are out, I'm feeling great. Nice body and mind high. Focused but lazy eyes and I'm sinking into the couch. Few days later, same reaction- feeling relaxed and not anxious one bit.
7. Conclusion: Didn't move for almost 45 mins 🤣. Started watching the Titans Vs Ravens game and was sucked in, couldn't even finish the review till after the game. I've had excellent reactions with this one! Tag a shop that ya think needs this! This is one of those "everyone would love it" cuts.
#NoHashTagz