Strain Review: Samoa Cookies by Pigeon Racer Farms
Let's do this!
. @pigeon_racer_farm
. @lemonnadesacramento
Brand: Pigeon Racer Farms
Cultivar: Samoa Cookies
Lineage/Genetics: Forum Cut GSC x Face Off OG
Original Breeder: Archive Seed Bank
Grower: Pigeon Racer Farms
Dispensary: Lemonnade Sacramento
Samoa Cookies Strain Review
31.983%THC
0.120%CBD
38.018% Total Cannabinoids
Harvest Date: 8/10/2020
Tested Date: 8/28/2020
Packaged Date: 9/9/2020
Comments: Seen it before and skipped out, came back around and said why not. Another new to me grab. Curious to see what their cookies take is.
Review
1. Scent: Clean minty kinda pine guys going on the nose. Musky type of basement dank also on deep inhale of the jar.
2. Appearance: Sheesh. Thick bud with a ton and I mean a ton of colorful trichomes. Purple, deep green, gold hairs. Wow.
3. Nug Structure: Dense. Would recommend grinding and no need for hydration cube. It came with a fresh pack.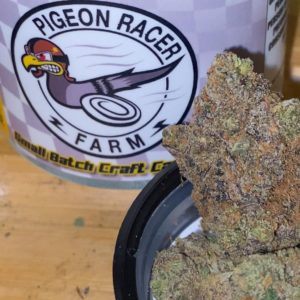 4. Smoke: Not a lot of cough off the bong for the lady, just the usual. Bubbler was smooth as could be. Little nose tickle warming on the chest I'm noticing too.
5. Taste: Peppery tingle mint- creamy tones into a faint tickle of pine also on exhale. Quite refreshing tbh.
6. Reaction: Slowly getting lift off, it's a delayed high but starts in the eyes. Def stuck on the couch with nice body stone. Bout an hour in duration, for a lighter smoker it could prob make an hour thirty or two even.
7. Conclusion: On the heavy side of the THC spectrum, was not disappointed. New brands can be hit or miss but this was a legitimate grab.
#NoHashTagz