Strain Review: 543 Green by SF Cultivators
Let's GO!
. @sfcultivators
. @lemonnadesacramento
. @trunorcal420_ (backup)
. @westcoastsmokeshow (squad)
Brand: SF Cultivators
Cultivar: 542 Green
Lineage/Genetics: (GMO x Mai Tai)
Original Breeder: SF Cultivators
Grower: SF Cultivators
Dispensary: Lemonnade Sacramento
542 Green Strain Review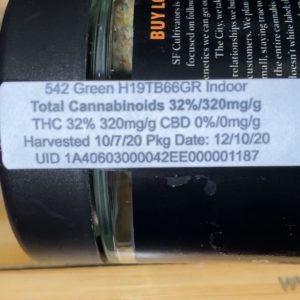 32% THC
32% Total Cannabinoids
Harvest Date: 10/7/2020
Pkg Date: 12/10/2020
Comments: Let's GO! Been a long wait but this brand is finally in SacTown. 🙏🏻🆙
Review
1. Scent: A Funky gassy GMO stank. Getting a vinyl rubber seat seat from an old mustang or Chevy truck. A second wiff gives a more fruity sensation on the back.
2. Appearance: Couple sugar leaves are coated with trichomes. Vibrant reds, oranges, and purple tones among this shining bud.
3. Nug Structure: Dense, yet hand breakdown is not an issue. I'll be using the grinder tho for the trichomes 👀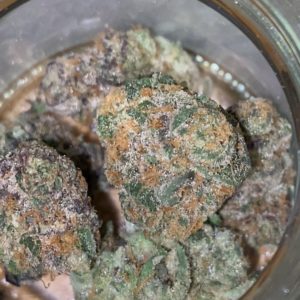 4. Smoke: On first inhale you can feel that gassy GMO. It's smooth in and out off the bubbler, no coughing.
5. Taste: That familiar GMO gas but the sweetness off the mai tai is balancing it out. Very pleasant notes.
6. Reaction: Head high stays a bit longer than the body, I'm noticing my reactions are delayed slightly. Noticing the body is active, not in couch lock mode but relaxed. Stoned well past an hour, one bowl so far and haven't reloaded.
7. Conclusion: Loved this one and what makes it unique for me is that I typically steered away from GMO cuts because the gas off the head high can be overwhelming. However, I was uplifted and relaxed. I'll venture to guess that the mai tai cross is helping in the relaxation dept. Def picking up again.
#NoHashTagz