Strain Review: Butter Mintz by Blue Chip Genetics
Butter Mintz
Cultivated by @thebluechipgenetics
Scooped exclusively at @thepurplelotus_
Lineage/Genetics: Peanut Butter Cup x Animal Mints
Original Breeder: Blue Chip Genetics
Grower: Blue Chip Genetics
Dispensary: Purple Lotus
Butter Mintz Strain Review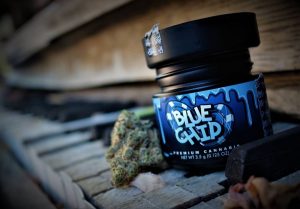 Now I was unsure about Blue Chip before I purchased this jar, I had not heard of them but when I saw the testing panel and saw the total cannabanoid count was sitting at 40.05% I decided to see if the terps were there to go along with the percentage, also blue chip genetics can only be purchased at purple lotus and I like rare jars and by only being at one dispo that makes this a rare one indeed.
Apperance-This jar was one fat dense bud, the nug was thick as fuck and was a tad on the dryer side of a cure, this material gleamed from the beautiful golden thrichs that just bounced off the sunlight with fat heads attatched to the stalks, slight blueish purple hughes wave in and out throughout mixed with forest green and grass green tones that make way to wavy orange pistils on this massive king size flower, once cracked open it shined even brighter as avalanches of frost are caked all over, just truely beautiful.
Smell- Out of the jar, with how pretty it was I was expecting flavor galore but was taken back by just a piney minty must, it wasnt bad just a little lackluster, once broken open the piney must remains but has a slight creamy pepper to the nose, not rhe absolute best but not bad either.
Taste-On the inhale I recieved a very smooth creamy piney flavor, the smoke is a little on the expansive side, the exhale provides a smooth creamy buttery taste, the flavor was not strong but was there nonetheless.
Effects-Instantly as I took my first hit and exhaled I could feel the headchange smack me, by the 2nd exhale my head was gone, a strong stoney cerebral high, I find myself forgetting what I am doing and go off track easily, not one for if you need to get shit done, as always I took my third pull and could feel the stone work its way through my body, I can still function but i'm absolutley ripped.
I would absolutely reccomend this strain for after work or night time, it smacks super hard and has a really nice spacey stone attached, now as i said I felt the flower felt a little dried out past its peak and may have lost some terps due to that, there was flavor but not quite what i look for in terps, it was a great toke other than that but when i pay the ticket i paid i expect a little more pop on that smell and flavor, the effects were there and I really did enjoy that with this strain here, just needs more flavor.