Concentrate Review: Cinderella 99 Sugar Wax by Regulator Xtracts
This Cinderella 99 Sugar Wax from Regulator Extracts is by far my favorite of the three concentrates I'm smoking on right now.
Lineage/Genetics: Cinderella x C94
Original Breeder: Brothers Grimm
Cinderalla 99 Sugar Wax Review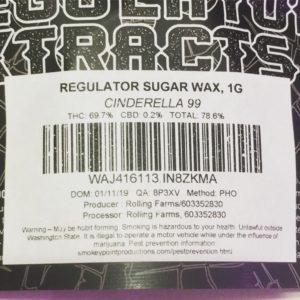 I think it smells like Green Apples. The consistency of the Propane Hash Oil reminds me of the oil I bought in college and so does the flavor and smoke. The effects are very much sativa-like, with a lot of energy and creativity, but with a little hybrid body high. It would be interesting to look up the terpene profile of Cinderella 99 to see if she's got any terps similar to apples because all plants carry terpenes.
STRAIN: Cinderella 99
AROMA: Apples, tart.
FLAVOR: Sour Apples
EFFECTS: Hybrid 78% sativa; head high increased heart rate. [Energy and Focus.]
CONSISTENCY: Wax (called Regulator Sugar Wax for its wet sugar-like consistency)
EXTRACTION METHOD: PHO [PROPANE HASH OIL]
PESTICIDES: smokeypointproductions.com/pestprevention.html
PRODUCER/PROCESSOR: Rolling Farms
FOLLOW: @smokeypointofficial .
.
.
.
.
#Cinderella99 #PHOWax #420 #420Society #Hemp #WeedPorn #Weedstagram #LegalCannabis #Kush #Legalizeit #orRecreationalMarijuana #waRecreationalMarijuana #710society #cannabiscommunity #710 #Weed #Cannabis #industrialHemp #i502 #Terps #Terpenes #CBD #THC
Advertisements