Concentrate Review: Real Neil Sugar Wax by Evergreen Extracts
Real Neil Sugar Waxfrom Evergreen Extracts has rich aromas hints of of lemon and lime. Maybe even a little bit of bubblegum in there.
Lineage/Genetics: Unknown
Original Breeder: Unknown
Processor: Evergreen Extracts
Dispensary: Northwest Cannabis Solutions
Real Neil Sugar Wax Review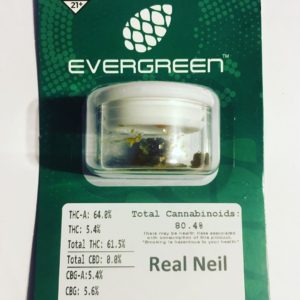 I feel like a kid in a candy store and all the flavors I got to taste and smell in candy, I'm now smelling in weed, as terpenes, from the legal cannabis products I purchase in shops. I've waited for this day forever. $15/1g
This Sugar Wax from a Real Neil strain is extracted with N-tane ("Normal Butane"). Normal Butane is cleaner in that doesn't have accelerants and other contaminants in it that could get leftover as residues in your final product.
In the BHO extraction method, the Butane used to extract the oil completely evaporates away and leaves behind the THC and other cannabinoids as an oil, or concentrate. Butane left in the oil can be removed with special heat/vacuum ovens through a relatively new process called Purging. Purging your extracts removes residual Butane faster and more efficiently than before and tuning temps. and bake time can create new and different consistencies of shatter and oils.
STRAIN: REAL NEIL
AROMA: Lemon Lime
FLAVOR: SOUR [Lemon Lime]
EFFECTS: Sativa HEAD HIGH
CONSISTENCY: WAX (Sugar Wax)
EXTRACTION METHOD: N-tane extracted.
PESTICIDES: NWCS425.COM/PESTICIDE-INFO (WSLCB-APPROVED PESTICIDES MAY HAVE BEEN APPLIED.)
PRODUCER: NORTHWEST CANNABIS SOLUTIONS, CANNEX GROUP
PROCESSOR: EVERGREEN EXTRACTS
FOLLOW: @nwcs420
#420 #420Society #Hemp #WeedPorn #Weedstagram #LegalCannabis #Kush #Legalizeit #orRecreationalMarijuana #710society #cannabiscommunity #710 #Weed #Cannabis #industrialHemp #i502 #Terps #Terpenes #CBD #THC #Cannabinoids
WARNING: There may be health risks associated with consumption of this product. Smoking is hazardous for your health.