Strain Review: Queen of Soul from Curaleaf
Curaleaf's Queen of Soul strain coming in at 18% THC.
Lineage/Genetics: Princess x Cinderella 99 x Vortex
Indica or Sativa: Sativa dominant Hybrid
Original Breeder: Brothers Grimm
Grower: Curaleaf
Dispensary: Curaleaf
Queen of Soul Strain Review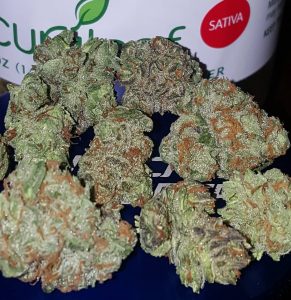 This Sativa Dominant 3 way strain hybrid mixes Cinderella, Princess and Vortex. Bred by the Brothers Grimm Seeds Genetics. Reminds me of Jack Herer slightly but more fruitty. Pretty impressed by this Curaleaf flower. Trying now in high hemp wrap. Think I might call this one Cerebro for the cerebral effects. Sativa for sure. Check comments for more follow up.
Definitely not bad.
Advertisements