Strain Review: Jungle Cake by Jungle Boys
Strain: Jungle Cake
Who: @jungleboys
Lineage: White Fire #43 x Wedding Cake
Indica or Sativa: Indica dominant Hybrid
Original Breeder: Jungle Boys
Grower: Hezekiah Inc.
Dispensary: TLC Collective
Jungle Cake Strain Review
Stats: 29.65% THC – .09% CBD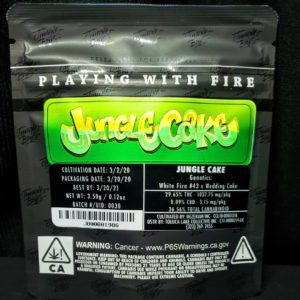 Aroma: Sweet Tropical Trash, Some Gas.
Flavor: Papaya, Cotton Balls, Light Fuel.
Medicinal Effect: Relaxed, Attentive, Even Mix of Body & Head.
Overall: I'm surprised that this has such a neutral aroma & flavor. I am really digging deep for some of these notes here. Everything is extremely subtle, and that's not a bad thing. It's a very smooth smoke, and seems to feature more of the White Fire #43 in the blend. The Wedding Cake is not lost however, as it attributes towards the sweet aroma, slight kush flavor, and tight nug density. I'm a fan, but I'm not blown away like I thought I'd be with the combination of these two legendary strains.
The Fire Scale: 7/10 flame-errkers
🔥🔥🔥🔥🔥🔥🔥
#cannabis #420 #losangeles #lacannabis #weedporn #cannaseur #nugshot #fire #thefirescale #og #kush #weedstagram420 #weed #strainreview #wesmokedifferent #indica #sativa #hybrid #playingwithfire