Strain Review: Orange Mints #11 by Jungle Boys
Strain: Orange Mints (#11)
Who: @jungleboys
Lineage/Genetics: Orange Cookies x Kush Mints
Indica or Sativa: Indica dominant Hybrid
Original Breeder: Seed Junky Genetics
Grower: Jungle Boys
Dispensary: TLC Collective
Orange Mints Strain Review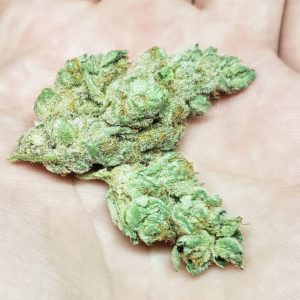 Stats: 23.83% THC – .07% CBD
Aroma: Ginger, Valencia Orange, Menthol.
Flavor: Ginseng, Artificial Fruit Zest, Potpourri, Earth, Medicinal Herbs, with a finish of spearmint.
Feeling: Focused, Relaxed.
Overall: These frosty buds, that look like they came from maybe an Afghan descent, were puffy and manicured so well, even in my gram bag. While I've seen it mentioned that is a favorite strain for some people, this one is not for me. I think I'm coming to the realization that I don't really like the "Mints" lineage. We'll see, I got another review on deck coming up with some Mints in the fam. If you like any of the flavors and aromas above, and you want a very #chill experience I think you'll dig this strain.
The Fire Scale: 6/10 flame-doodles
🔥🔥🔥🔥🔥🔥
#cannabis #420 #losangeles #lacannabis #weedporn #cannaseur #nugshot #fire #thefirescale #og #kush #playingwithfire #jungleboys #indica #sativa #hybrid