Strain Review: Black Cherry Gelato by Darwin Farms
Black Cherry Gelato – @darwinfarms
Nose: Fruity, nutty, woody, oak, floral
Inhale: Fruity, citrus, floral, sweet, creamy, spicy, tangy
Exhale: Musty, fruity, cakey, tart, floral
Lineage/Genetics 🧬: Açaí Gelato x Black Cherry Funk
Bred by: Unknown
Cultivated by: Darwin Farms
Assisted by: Space Boy Exotics @spaceboyexotics
Terpene Profile: Unknown
Black Cherry Gelato Cannabis Cultivar (Strain) Review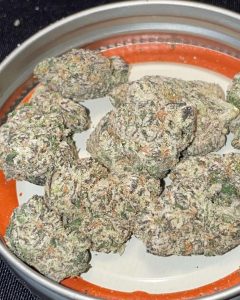 Hey what's up everyone? Happy Friday! I know I've been out of the mix this week but I wanted to bring you another one I've been sitting on for awhile as I continue to square away some older reviews. This one I received a little while back at the High Tolerance event when I ran into Spaceboy Exotics. For those of you who don't know, Spaceboy Exotics has been one of the numerous amount of vendors that has popped up over the past 2-3 years serving the Boston community. Until now, I've never personally tried anything from their brand but after seeing a few offerings from Darwin Farms on their table (including a positive experience with their Gelato 41) I knew another trial was in store. After having a chance to chop it up with the creator of Soaceboy, I grabbed some of the Black Cherry Gelatao. For those of you who are unfamiliar with this cultivar, BCG is a cross between Açaí Gelato and Black Cherry Funk. My anticipation was that this was going to be on the terpier side of things. Let's waste no more time and get into the facts!
The Black Cherry Gelato was featured in Darwin's Farm signature designed mylar bag (same design seen on the Gelato 41) that contained a dark cherry red colorway this time around. I won't get into more detail as I elaborated on it in my last review. When opening up the seal on the packaging, my nose was met with familiar notes of cherry oak, floral, and nutty aromas. I particularly honed in on a deep-rooted cherry nose that was accompanied by a heavy woody/oak smell. You could really gain a sense for a licorice undertone as well on this cultivar given the Black Cherry Funk in the lineage. Although holding a moderate aesthetic, the buds weren't as promising this time around.
Consisting of mostly smalls, this quarter drew an upwards of 15-20 buds in total ranging from a couple medium size nugs with a bunch of pebbles. Mainly light to lime green in complexion underneath a healthy covering of trichromes these buds had darker purple leaves as well as pistils dispersed throughout the structure. Each bud was made up of a soft, spongy texture which was a bit sticky rubbing off a ton of kief flakes. Once broken apart the fruity floral notes became more apparent than before along with that distinct licorice nose. True to its gelato form, yield on the BCG wasn't anything to write home about which, in turn, required me to use more bud than needed to fill up the joint. The dry pull on it revealed a cherry cough medicine taste with faint fruity, floral undertones.
When I sparked the Black Cherry Gelato in an Organic RAW, there was no mistaking the cherry flavor this cultivar brought starting from the initial inhales. The fruity, citrus blend kicked off the sesh with a terpy bang fueling both bitter and creamy terps. On the way out, I experienced more of a musty, cakey that carried over a bit of the tangy bitter notes found on the inhale. In addition to that, I honed in on the same floral terps offered in the inhale as well. Even though cultivar contained common characteristics found in other gelato varieties, this one had its own unique style. As I neared the halfway point in the sesh I could really notice those floral citra terps starting to amplify. I also discovered a faint Cherry Coke taste this cultivar put out around this time concocting with spicy, creamy z terps layered beneath each pull. Considering the burn was a little uneven, this cultivar was coated in terpy goodness resulting in a lighter gray which produced a thick terp drip with stains running down the side of the joint. Towards the tail end of the sesh, I didn't pick up on too many changes. This cut of Black Cherry Gelato rose out that sourish candy flavor til the finish of the sesh. When it was said and done, I wasn't overly impressed by the way that this cultivar smoked, however, I truly feel like the terp profile this cultivar held ended up being the main attraction.
I started to take notice of the medicinal effects from the Black Cherry Gelato as they settled in around halfway through the sesh. This began with a looseness developing within my temple slowing trickling down to my neck, back, and upper chest region. Once this occurred, my mind began to wander as I was mildly fading in and out of my thoughts. By no means did this cultivar hit the body with brute force as the effects from this were way more subtle and tender than expected.
My perception was, for the most part, in tact with what was going on at the given time even though my eyes sat low holding buckets of water in them. Surprisingly, in the midst of a mildly strong body high this developed I also felt a slow, beating head high taking over. This feeling was more towards the top and back of my head making its way down my spine within 15 minutes or so. Personally, I preferred this one right after work before beginning my nightly chores/actives even though I didn't see this cultivar being an issue if consumed earlier in the day. The time in which the effects lasted did let me down slightly. On a better day, the effects hit for around 90 minutes however, most occasions only around 60-75 leaving me a bit disappointed. While I did enjoy the effects the Black Cherry Gelato put out I didn't feel like the strength they possessed was not on par with what I expected.
After having a chance to try the Black Cherry Gelato by Darwin Farms I'm left with mixed emotions. While this cultivar did possess an extraordinary nose and terp profile the smoke and effects fell a little short. I do believe any smoker who enjoys a flavorful gelato/Runtz cultivar will still want to check this out. Especially if you have a knack for cherry soda or licorice. Although I mentioned the effects weren't the most powerful I've experienced, I do feel like they will serve well for those dealing with any type of soreness or chronic pain throughout the upper body. This will most likely do wonders for someone who is between the stages of a beginner to intermediate level smoker. I am stoked I had the chance to try another product from Darwin Farms (via Spaceboy Exotics). Personally, I'd probably grab the 41 over this if I had the chance to try again but certainly wouldn't pass up the BCG if someone passed it to me. Nonetheless, I appreciate the Spaceboy Exotics team for hooking it up and I'm sure we'll see more from both parties down the line.
Advertisements