Concentrate Review: Blueberry Cookies Sugar Wax by Regulator Xtracts
BLUEBERRY COOKIES sugar wax
Lineage/Genetics: Thin Mint GSC x Tahoe Blue
Original Breeder: New420Guy Seeds
Brand: Regulator Xtracts
Blueberry Cookies Sugar Wax Review
Blueberry Cookies is a hybrid that boasts a well balanced high leaning on the sativa side. It has rich aromas of berries! It must be a cross of blueberry and cookies!
CONSISTENCY: Light and airy like Crumble but retains its shape in bricks and nugs with a sticky, semi-adhesive core as sugar wax. Lots of air pockets.
EXTRACTION METHOD: PHO
PESTICIDES: https://spptesting.com/AX8VT.pdf
PRODUCER/PROCESSOR: ROLLING FARMS
FOLLOW: @regulator.xtracts
.
.
.
.
.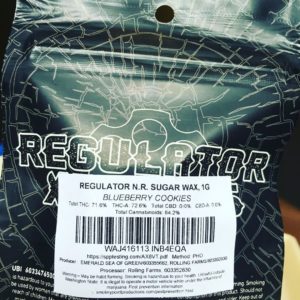 #i502 #Seattlestoners #ogKush #cannabiscommunity #Weedstagram #WeedPorn #Terpenes #Cannabinoids #CBD #THC #420 #710 #420society #710society #LegalCannabis #Legalizeit