Concentrate Review: Frankenstein Ethanol Hash Oil by ORGrow
FRANKENSTEIN
Lineage/Genetics: Unknown
Original Breeder: Unknown
Brand: ORGrow
Frankenstein Ethanol Hash Oil Review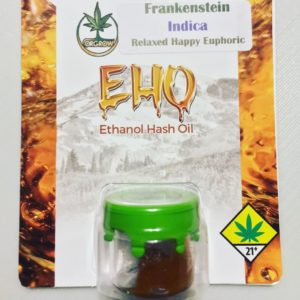 This Frankenstein from @orgrow hits all my marks for a top shelf concentrate. It's flavorful, looks and smells great. And it's potent to. You can tell sometimes by the way it looks and smells. But good weed is not all about the numbers i.e. THC percentage, its about the terpene profile, cannabinoids and how the bud was grown and extracted. I'm very satisfied with this purchase because I re-found a really good concentrate.
The first thing I noticed when opening the container was a slight smell of alcohol, almost kinda bitter like a beer. This wasn't a bad thing I just didn't know why I was smelling something hoppy and bitter like beer. I had to check the package and the smell made sense.
Its aroma is also sour and sappy like caviar and it looks like live resin, but it isn't. This concentrate is extracted with ethanol alcohol, a very high proof but pure form of alcohol. And that's what makes this concentrate unique. And awesome to blaze with! Upon dabbing it bubbled up and foamed at the mouth like a beast of burden.
This indica from Orgrow has strong aftertastes of lime. I usually have to think hard about what aroma or flavor I'm getting but this made me think I had just eaten a lime. Now when I take a wiff of the container, it smells very citrusy and limey now that the pleasant beer smell is gone. I'm guessing the residual alcohol (which there is always some solvent left over) evaporated in the container during transport to me and then got burped out. By me. I think I was smelling something hoppy and bitter like beer and alcohol and cannabis shares a lot of terpenes with hops. Dabbing with Frankenstein was an experience to say the least… Thanks again to @attheherbery for consistently hooking it up with great strains and knowledge and instantly knowing what direction to point me in when I said I wanted a indica hybrid. This is my new favorite concentrate.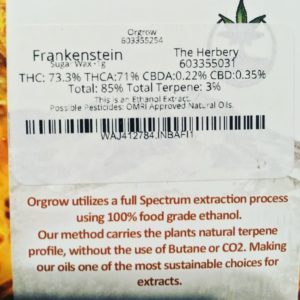 STRAIN: FRAKENSTEIN
AROMA: SOUR / PINEY / LIME
FLAVOR: LIME, CITRUS
EFFECTS: INDICA – RELAXED, HAPPY, EUPHORIC
(budtender's note: "they label it as a full indica but its a hybrid)
CONSISTENCY: Looks like live resin or sugar wax but is more wax like. (thick and waxy)
EXTRACTION METHOD: Ethanol Hash Oil
PESTICIDES: OMRI APPROVED NATURAL OILS
PRODUCER/PROCESSOR: ORGROW
FOLLOW: @orgrow
.
.
.
.
.
#i502 #Seattlestoners #orgrow #frankensteinstrain #frankenstrain #ogKush #cannabiscommunity #Weedstagram #WeedPorn #Terpenes #Cannabinoids #CBD #THC #420 #710 #420society #710society #LegalCannabis #Legalizeit
Advertisements