Concentrate Review: Grape Pie Live Rosin by Nelson & Co. Organics
Lineage/Genetics: Cherry Pie x Grape Stomper
Grower/Processor: Nelson & Co.
Grape Pie Live Hash Rosin Review
This Nelson and Co. Organics Grape Pie (Cherry Pie x Grape Stomper) single source live rosin had a strong grape candy aroma with notes of doughy funk 🍇🍬🥧 The appearance and presentation of the cold cured batter was excellent 🙌🏼 Beautiful yellow color with just the right amount of wetness 💦 The texture was also great and very easy to work with.
The flavor was strong grape candy with notes of funky dough coming through on the exhale 😋 The badder was smooth to dab with just some very minor harshness to note 💨
The effects were potent, stoney, and relaxing 😊 I noticed some pressure in my forehead and in my cheeks just after my dab, followed by potent full body relaxation 🤗 The Grape Pie was perfect for unwinding during the evening.
Overall I loved this Grape Pie from Nelson & Co. Organics 🍇🥧🔥 The aroma and flavor were strong, and the effects were potent and medicinal 🙌🏼 Have you tried the latest single source drop from Nelson & Company?
Made 12/13/22
Tested 12/19/22 Chemhistory
Honest Reviews 🕵️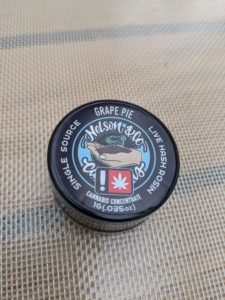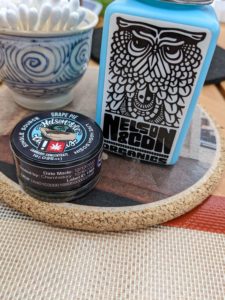 —————————————-
Do not operate a vehicle or machinery under the influence of this drug
For use only by adults twenty-one years of age and older
Keep out of the reach of children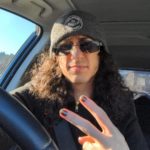 Hi! My name is Ryan and I do honest product reviews for the Oregon cannabis industry under the brand The Sophisticated Dabber. I've doing doing product reviews in Oregon for the last few years now and I have been a cannabis consumer/patient in Oregon for almost 19 years. I run a blog on IG @thesophisticateddabber and also make dab tools with hand turned wooden handles @sophisticateddabtools . Hope you enjoy my reviews!
Advertisements