Strain Review: Big Grape Pie by House weed
Strain: Big Grape Pie aka Grape Pie
Lineage: Grape Stomper X Cherry Pie
Genetic Type: Indica Hybrid
Cannabinoids: Total: 33.61% THC: 27.84% 0.08%
Breeder: Cannarado Genetics @reallycannarado
Harvest/Package Date: 3/14/22
Brand: House Weed @houseweedca by Lowell Farms @lowellfarms
Dispensary: Amuse @amusenow2.0
House Weed Big Grape Pie Cannabis Cultivar (Strain) Review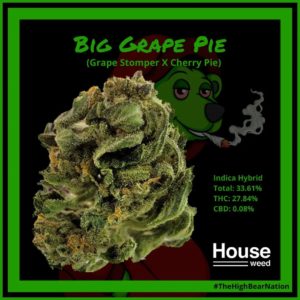 Look: 2 mid size nugs and mostly scrappy looking nugglets filled this 1/8th to 3.46 Gs, just shy of the 3.5 mark. Overall this particular eighth was very close to being considered shake in my opinion. Lots of stem and very leafy airy budlets. Mid to light greens throughout, decent trichome coverage with a few dark orange pistillates scattered amongst the bits of nug.
Scent: Hit with a tangy and sort of sour green aroma, almost like composting grass. Very slight fruity sweetness vaguely reminiscent of an almost ripe grape.
Flavor: This particular batch wasn't the most flavorful but I was able to identify some grape undertones with a slight menthol mint and a very subtle doughy flavor but mostly got a green mustiness, kind of a "generic weed" taste.
Effects: Took a minute for the high to kick in, ended up smoking a whole bowl before I started feeling anything. Felt my head get lighter and floaty with a nice euphoric effect. A couple more hits and I started feeling some pain relief in my lower back. This was an ok budget flower, might not be the most aromatic or flavorful but it wasn't harsh to smoke and it had some ok effects.
𝔸𝕝𝕝 𝕡𝕣𝕠𝕕𝕦𝕔𝕥𝕤 𝕡𝕠𝕤𝕥𝕖𝕕 𝕨𝕖𝕣𝕖 𝕠𝕓𝕥𝕒𝕚𝕟𝕖𝕕 𝕗𝕣𝕠𝕞 𝕒 𝕃𝔼𝔾𝔸𝕃/𝕃𝕀ℂ𝔼ℕ𝕊𝔼𝔻 ℂ𝔸𝕃𝕀𝔽𝕆ℝℕ𝕀𝔸 𝔻𝕀𝕊𝕋ℝ𝕀𝔹𝕌𝕋𝕆ℝ 𝕒𝕟𝕕 𝕒𝕣𝕖 𝕤𝕙𝕒𝕣𝕖𝕕 𝕗𝕠𝕣 𝔼𝔻𝕌ℂ𝔸𝕋𝕀𝕆ℕ𝔸𝕃 𝕒𝕟𝕕 𝔻𝕆ℂ𝕌𝕄𝔼ℕ𝕋𝔸𝕋𝕀𝕆ℕ 𝕡𝕦𝕣𝕡𝕠𝕤𝕖𝕤 𝕠𝕟𝕝𝕪. 𝔹𝕖 𝕤𝕦𝕣𝕖 𝕥𝕠 𝕗𝕠𝕝𝕝𝕠𝕨 @NorCalCannaBear 𝕗𝕠𝕣 𝕞𝕠𝕣𝕖!
.
.
.
.
.
#NorCal #CannaBear #TheHighBearNation #CannabisCommunity #CannabisCulture #CannabisReview #WeedReview #TheSmokersClub #420 #420Daily #420Community #PremiumCannabis #LuxuryCannabis #CannabisIndustry #CannabisPics #WeedPics #PotPics #PuffPuffPass #California #CaliforniaDispensary #BayArea #BayAreaCannabis
14+ year long Med/Rec Cannabis user from the Bay Area, California. Providing my honest opinion of cannabis products ranging from economical to top shelf. Follow me on Instagram @norcalcannabear
Advertisements