Cultivar Review: Donny Burger by That Kid from Chelsea
Donny Burger – @thatkidfromchelsea2.0
Nose: Skunky, garlic, beer cheese, fruity, piney, minty, floral
Inhale: Floral, spicy, gassy/skunky, chem, citrus
Exhale: Meaty, musty, skunky, piney, woody, garlic
Lineage/Genetics 🧬: GMO x Hans-Solo Burger (GMO x Larry OG)
Originally Bred by: Skunk House Genetics
Cultivated by: Thatkidfromchelsea
Terpene Profile: Unknown
That Kid from Chelsea Donny Burger Cannabis Cultivar (Strain) Review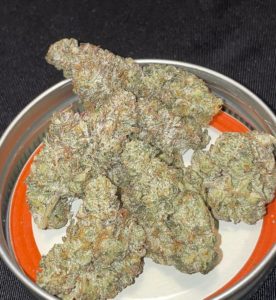 Hey what's up everyone? I hope everyone is working off that Halloween candy (or weed) from the other night! Today marks the return of That Kid from Chelsea who we haven't seen on the page since this summer. Indigenous to the local craft game here in Eastern Massachusetts, I got to experience firsthand what the hype was all about after trying both the Gastro Pop #10 and T-Scottie, respectively, the last round. One of the standout features he mentioned to me regarding his growing method is that all of the cultivars he grows out are done with living soil and still water. Having passed on this cultivar during the previous round, I decided to give the of Donny Burger he recently grew out a try. Originally bred by Skunkmasterflex, the Donny Burger features cross between GMO and Hans Solo Burger, making it a hit amongst gas smokers and GMO fanatics alike. I have also heard from a few trusted sources in the area that Kid from Chelsea's Donny Burger is one of his more dialed in cultivars which was met with my delight. I was interested to see how this would serve as follow-up to the previous two reviews. Let's waste no more time and get into the facts!
When I received the Donny Burger, That Kid from Chelsea had it packaged in a generic sandwich baggie. Upon opening up the bag, a strong odor of skunk and garlic hit me with a GMO-like funk that carried a backend of fruity beer cheese. The medium-sized nugs that made up the quarter I received were insanely sticky when placed in hand. They consisted of a flaky, bristly structure that felt sharp when brushing up against my skin.
Each one was comprised of lighter green (almost pale) colored hues with fiery fed pistils and a trichrome coverage that got thicker near the tip of each cola. I wouldn't consider this cultivar to have had the most dense nugs I've come across, however, they were rugged pulling apart given the stickiness that each one possessed. Once I managed to break into a couple, I received a pungent aroma of stale fruity that held the most skunky, foul odor I've smelled in recent memory. There was also a faint mint odor that I detected after wafting the bud for about 5 seconds. The struggle I endured breaking open the buds made it 100% necessary to use a grinder to break these bad boys down. Although the grind was minimal however you sliced it, the buds were at their stinkiest during this stage. Foul aromas of garlic, lavender and pine filled the entire upstairs for hours. When I proceeded to take a dry pull from the joint, my palette became coated with skunky fruit-like notes that bore an interchangeable mix of lemon, chem and floral terps.
When I sparked the Donny Burger in an Element paper, powerful notes of floral set the tone for the sesh. This contained a gaseous concoction of spicy garlic terps that left my mouth lingering with a zesty aftertaste. On the way out, I received those distinct GMO qualities as this cultivar exhibited a taste of musty garlic and strong meaty terps on the exhale.
On some pulls, this stung the throat with a ton of pine and woody notes through the exhale. The joint started off slow-burning with an oily texture that translated into to generic lemon citrus terps. I must add that the taste of pine was rather overbearing and made this cultivar exceptionally pressuresome early on. Moving towards the halfway point in the sesh, I noticed those GMO notes in the lineage start to dissipate as the pulls became simply heavy floral and chem. The follow through still managed to bring about a considerable amount of mustiness while I could still feel the oil running off meaty, garlic flavors this cultivar displayed. In addition to the pressure each pull added they also induce thick clouds of smoke. Ultimately, this resulted in a lighter grey to white ash including an absolutely sweaty terp ring. I was pretty unfathomed, however, by the way the chem terps lingered around in the sesh while those once thriving floral terps took a back seat. I thought the terps lacked a bit in the second half of the sesh mainly due to fact I received more generic gassy terps. It was difficult to tell what I was pulling at certain points as both the chem and skunky terps fought with each other. I can't deny that this did put out a powerful flavor throughout the sesh and will more than likely be an instant appeal to gas smokers. All in all, there was no questioning the potency this one brought to the table although, at certain points, the terp profile on the Donny Burger could've used a bit more sprucing.
Similar to the potency in smoke, the medicinal effects that spawned from this cut of Donny Burger were a force to be reckoned with. Right off the bat, the onset of effects set in with a balanced euphoria between the mind and body. By the time I got three-quarters of the way through the sesh I felt as if the the front and sides of my brain were rattling with numbness. Within the first 20-30 minutes of the effects initially settling in I could notice an increasing weariness forming within my thoughts and overall focus.
My attention span weakened considerably within the first half hour and I had trouble keeping my thoughts in order. However, I didn't seem to mind this so much as this cultivar brought on a joyous feeling and almost a melting sensation within my loins. Within about 45 minutes to an hour from the onset of effects is when I felt butterflies in my chest giving me moderate bubble guts. I experienced a steady hankering for sweets while under the influence of this cultivar. Over the course of time, the Donny Burger tended to make me more tired and tired which, in turn, made it tougher for me to recollect my bearings. As a result, this cultivar was more than ideal for a night cap in the evening. I even made the mistake of lighting this up one Saturday morning and sliced my agenda for the day in half because of it. The duration of effects hit for about an hour and a half to two hours boasting above average effects while in play. Ideally, this was a perfect indica-leaning experience suitable for nighttime use but probably nothing else beyond that.
After having a chance to finally try the Donny Burger cultivated by That Kid from Chelsea I thought it was a supplemental smoke for those times I was seeking a "brainless" experience. Although I did mention I had some gripes regarding the flavor, I still think this has GMO-leaning characteristics that gas smokers will itch to get their fingers on. Especially if musty garlic and heavy skunk/chem terps are you're thing, this will be a must grab. The potency between both the smoke and medicinal effects, respectively and collectively, speaks for itself. As I mentioned a couple times, the pressuresome pulls made it a situation where I became medically flatlined in some cases. If you are looking of medicinal qualities that carry exceptionally sedating qualities than you can count on this round of Donny Burger to do just that. I wanted to thank That Kid from Chelsea for getting this one in my hands to try. It is inevitable we will see more from him sooner than later.
Advertisements