Cultivar Review: Gary Payton from Jews who Infuse
Gary Payton – @jewswhoinfuse
Nose: Sweet, floral, musty earthy, burnt rubber, spicy, citrus
Inhale: Spicy, floral, burnt rubber, gassy, sweet, citrus
Exhale: Citrus, spicy, floral, rubbery, cakey, musty, gassy, zesty
Lineage/Genetics 🧬: The Y x Snowman
Bred by: Powerzzzup (original breeder)
Cultivated by: Undisclosed
Brand: Jews Who Infuse
Terpene Profile: Unknown
Gary Payton Cannabis Cultivar (Strain) Review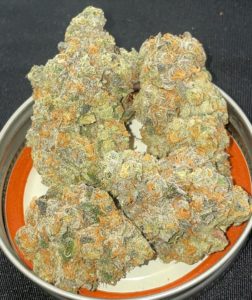 Hey what's going on everyone? Today, I'm going to dive into the last bit of content I received from Jewswhoinfuse a couple months back. Before I begin, I wanted to mention that this is the second time I'm reviewing the same cultivar under the same vendor. I did this because this came from a different grower (undisclosed) than @blame_canada , the man responsible for cultivating the last batch of Gary Payton I received from Jewswhoinfuse. Naturally, there won't be any introduction as there are plenty reviews already up you can check out from this piece of work (kidding lol). This may possibly be the 5th (maybe 6th) time reviewing this cultivar as the quality typically speaks for itself. Ranging from burnt rubber to sweet floral terps with a knack to burn smooth while at the same time adding a kick, Gary Payton is a fan favorite for many for a good reason. Of course, when I heard Jews had this on the menu I knew it was time for another go round. Let's waste no more time and get into the facts!
First off, the packaging on the Gary Payton was simple as ever sporting a plastic sandwich baggy like the other offerings from this round were. Whoever said size doesn't matter would be opposed just looking into the bag. This half I got a couple months back had only about 4-5 nugs in total that were legit baseball-sized. As I proceed to opening up the bag, the nose was true to form. I received a earthy and sweet floral combo to go along with a pale mustiness that added some funk to it. Once I cracked a nug open and held it close to my nose I gained a sweet melon aroma which I have never experienced within this cultivar before. This along with mild terps of citrus made this batch of Gary relatively sweeter than past offerings were. Each one was absolutely spectacular looking when taking out of the bag.
Consisting of a dense, spongy, yet bristly surface I noticed the nice hand-trim on this one right off the bat. Windy bright Orange yellowfin pistils covering the overall structure were a sight for sore eyes. The eloquent lime green to bright violet hues illuminated the appearance of the cultivar making its an absolute beauty. I struggled breaking into the nugs finding the need to use a grinder to break this batch of Gary Payton down. Upon doing so, I received a spicier, more rubbery aroma than the sweet terps thrown off when in solid form. A concoction of sweet lavender and burnt rubber terps saturated the dry pull leading me to believe this could be a highly delectable smoke.
When I sparked this round of Gary Payton in an Organic RAW, the first hits were comprised of smooth, yet incredibly gassy, notes of spicy floral. I also noted a large dose of burnt rubber terps early and often. On the way out, generic citrus terps that gave off a spicy chili backend with doughy, rubbery notes coating my palette. As mentioned, I felt the pressure from most of the pulls early on but with a sweetness to follow for the first half of the sesh. About a 1/4th of the way into the sesh the citrus terps that followed on the exhale gave off a slight taste of ripe tangerines. I additionally honed in on lemon and Orange notes during the inhale although these were difficult to pick up on given the overbearing taste of floral.
Most notably, the first half of the sesh brought about those distinct burnt rubber terps held true within this cultivar. Resulting in a lighter grey to white ash including a hefty terp resin drip, this cultivar had a slow, potent burn to it. Stepping into the second half of the sesh, the spicy, burnt rubber notes wore off a bit as the sweet citrus taste started to amplify more than it had before. Within the intertwining notes of sweet floral in citrus, I felt a presence of z terps deeply rooted inside this cultivar's range of taste. The exhales followed by a zestier taste that moderated the pressure of each pull. This wasn't as spicy as the first half of the sesh although I couldn't quite but my finger on what exact taste was coming about at this point. Coasting into the final stages of the sesh, the slow, steady burn remained in tact as well as the sweet citrus-sprinkled sweetness. All in all, I thought this batch of Gary Payton was a lot sweeter than past offerings while still holding this distinct flavors this cultivar typically possesses. Stinging with it's above average potency this one steamrolled into some pretty solid medicinal effects.
The onset of medicinal started to affect me later into the sesh (around 3/4 of the way in) hitting the center lobe of my brain full throttle. It almost felt as if I had a mild ringing sensation going into my ears that, in turn, began pushing towards the front of my forehead. From the jump, I remember thinking to myself that the effects of this cultivar were going to hit hard, which they did. Within the next 20-30 minutes shockwaves of relaxation were sent down the back of my spine erupting into a true body high. I felt absolutely imperturbed while experiencing the effects this cultivar offered.
While I didn't feel overly social I did tend to hold my own in small group settings. Within the next 15-20 minutes the peaks of the effects hit as I felt mildly slumped and needing to sit down. Times where I would walk this one off I noticed myself sitting down on the park bench and looking out directly into the ocean. The uplifting effects coupled with the intense vibes of relaxation made this perfect to pair with nature, in my opinion. Additionally, this was also a good blaze before dinner as the effects not only only made me hungry but also enhanced the flavor of whatever I was eating. When it was all said and done the effects from this batch of Gary Payton lasted around hour and half. I was anticipating the effects to be a little more exhausting than they were but, at the end of the day, they complimented the smoke quite nicely.
After having a chance to try a different batch of Gary Payton from Jewswhoinfuse I will put it shortly: this one took the crown over the previous offering. First off, starting with the appearance, this one had all the potential to be a contest entrant. To add to the looks, this also had an ever-changing nose that became exceptionally terpy upon being broken down. If you have a knack for sweet terps with a back end of spice and burnt rubber than you're in luck! When it came to the smoke this will more than likely hit the consumer with above average potency. I would advise those who don't dabble frequently with cannabis to proceed lightly. For terp seekers, although this batch of Gary did bring out its indigenous burnt rubber and floral terps, I believe this had to be the sweetest tasting sample of this cultivar I've ever had. While this cultivar consisted of stimulating effects, I felt myself become more worn down than compared to past experiences. Like I said, this inched out last offering of this cultivar I received from Jewswhoinfuse which led to a relatively enjoyable experience all-around. I wanted to thank him again for the sample and we will see you soon for some bagels!
Advertisements