Cultivar Review: Gastropop by Strain Mason
As summer is coming to a close I still have some heat from @strain_mason to showcase with his cut of Gastropop.
Lineage/Genetics: Apples n Bananas x Grape Gasoline
Original Breeder: Compound Genetics x Cannarado Genetics
Grower: Strain Mason
Terpene Profile: Unknown
Gastropop Cannabis Cultivar (Strain) Review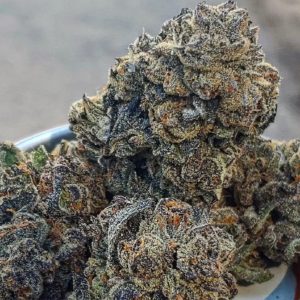 This was originally bred as a collaboration between @chris_compound and @reallycannarado that has been quite the hit from the Apples and Bananas lineup. This cross is Apples and Bananas(Platinum Cookies*GDP dad crossed w Blue Power then crossed w Gelatti)and Grape Gasoline(Grape Pie*Jet Fuel Gelato). Say what you will about the split of Chris from Compund and Jeff from @wyeast_farms. While some may say Chris may be laughing all the way to the bank with big name marketing deals with Cookies and seed prices soaring in recent years. Although the real heads know that Wyeast puts out stablelized fire genetics and lets his work do the talking while taking a step back from the limelight.
These fat bulbous nugs with colors spanning forest green, midnight purple, and even streaks of silver gleam. Nothing like expected from an Apples and Bananas cross mostly known for smaller golf balls although the thick short rusty orange pistils are easily distinguished. The leaf to bud ratio isn't great so density is light for such large buds but heavy in cloudy thick trichomes. 24/25
Out the jar is bursting with sour cream and stone fruit notes. Once broken down it resembles a sour apple and cherry Gogurt combining with the musky gas notes it aroma is appealing on many different levels. Just don't expect anything sweet for it has a rancid sour to it. 23/25
Flavors lead more towards green apple, green grapes, and unripened berries with spoiled cream notes on the backend. Cherry kool-aid packet before the sugar on the dry pull that burns down slow to medium grey ash and small terp ring. 22/25
Expect this high to be closer to the Sativa spectrum with quick uplifting effects that are perfect for starting the day off right especially if you missed your morning coffee. Bright euphoric headdy high that starts quick and last a bit over an hour. Definitely a hit with a twist on the popular candy gas. 23/25
92 points- #weedadvocate
#gastropop #compound