Cultivar Review: GMO Rootbeer by Skunkfoot Farms
GMO Rootbeer – @skunkfoot.farms
Nose: Musty, earthy, spicy, peppery, gassy, floral
Inhale: Floral, spicy, gassy, earthy, musty, rubbery, citrus
Exhale: musty, sweet, earthy, rubbery, mossy, sour, peppery
Lineage/Genetics 🧬: GMO x Rootbeer
Bred by: Skunkbank Genetics @skunktek
Grown by: Skunkfoot Farms
Terpene Profile: Unknown
Assisted by: @el_guapo_dankdabs
GMO Rootbeer Cannabis Cultivar (Strain) Review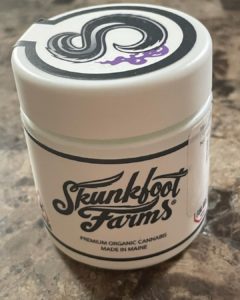 Hey what's up everyone? It's been awhile since I've reviewed some Maine content and, today, I have a first-time member to the page who has a few accolades under their belt. Since this is review number 100 I felt like it was fitting to save this review of Skunfoot Farm's GMO Rootbeer for the occasion. Hailing from just north of Portland, Maine, Sknunkfoot Farms has established an impressive reputation for themselves. This one placed second at the 2021 High 95 Cup while his Platinum Kush Mints ended up taking the gold. Upon doing a some research upon their brand I came across a short description of them written by Atlantic Farms. In the writing, it mentioned how Skunkfoot Farms delivers high quality products for their patients by utilizing living soil beds in their greenhouse/organic grows and amended soils with probiotics for their indoor cultivation. I received an eighth of their GMO Rootbeer a little while back as a gift from El Guapo Dank Dabs at the same time I grabbed some wedding cake from him. I have only tried this cultivar once before but had a moderately prominent experience with it so, in turn, I was down for the cause to repeat this one. Let's waste no more time and get into the facts!
The airtight jar that Skunkfoot Farms used to package the GMO Rootbeer was extremely durable. Made up of graphite (or something along those lines), the blandish white jar seemed to be equipped with UV protection based off the material. While the look was quite simple, I've always admired the two skunk tails hanging off the "S" and "F" in the name "Skunkfoot Farms". Apart from that, I didn't notice an insane amount of detail on the packaging.
However, this is how I've known most Maine cannabis branding to be and, for the most part, have found the real flashiness has been reserved for the flowers. It also contained some testing info on the cultivar as this was reported at 23.1% THC and 27.6 total cannabinoids with the terps coming in at 1.91%. In addition to this, I did not notice a package date listed within the info.
When I twisted off the childproof top concealing the GMO Rootbeer inside, I gained a mild, but favorable nose of spicy must and various earth-like smells.
Around half way through the sesh, the once rubbery inhales became a lot more charismatic. Diesel-like notes deriving from newly formed citrus terps, and added spices, coated the interior of my mouth. This complimented the Chem taste from earlier which made each pull at this point a little more unforgiving than the last. I also brought in familiar tastes of musty garlic giving me flashbacks to the original GMO. The citrus taste started to dissipate as a garlic pepper taste entered the equation with Chem terps remaining strong. I noticed I was letting out awfully thick clouds when smoking this cultivar as the burn almost always seemed impeccable. This led to a full-out white ash with spotty terp drip around the crevice of the joint. I didn't notice too much taste change towards the end of the sesh nor did I lose a sense for those peppery and musty Chem terps that's seemed to champion the sesh. All in all, while this wasn't the most impressive smoke I've come across I still though it was super clean and relatively gassy leading to some "feel good" medicinal effects.
The onset of medicinal effects hit towards the end of the sesh in the case of this GMO Rootbeer. I remember thinking to myself that the heavier, pressured pulls weren't hitting me as quickly as I anticipated. Then, it hit me around 10 minutes later or so when I began to experience my limbs becoming looser as well as the energy being sucked from out of me. My eyes felt extremely weighed down including a teary red color forming within. As my mind started to wander, I became submersed into deep thought. My legs felt like they had ankle weight strapped to them as any mobile movement drew fatigue. However, I still noticed that I had a relatively uplifted spirit as well as enhanced mood while under the influence of this cultivar.
Consisting of a long, lanky colas the aesthetics on this cultivar were sneakily on point. As I put my eye closer to each one I caught a mix lighter green to violet hues that made up the colorway which all came under a blistering trichrome coverage, engulfing the total surface. Not to leave out the fact that the darker orange pistils gave it somewhat of an early morning look, especially when under a light. They ended up being stickier than I had imagined but still had a nice snap to them when breaking apart. When doing so, that spicy must smell I experienced when holding the nugs whole amplified into a subtle burnt rubber scent. Additionally, this produced a skunky odor reminiscent of GMO but with more of an chemical touch added to it. As I continued, breaking down this cultivar was easy and preferably done in a grinder. I was little taken back by the yield not giving me more bang for my buck but, nonetheless, it was still prominent. Once broken down, I got more of that musty odor held true to the original GMO while still honing in on that powerful skunky, fuel-like aroma. As I proceeded to take a dry pull from the joint I received a peppery ginger terps accompanied by gassy, earth notes.
When I sparked the GMO Rootbeer in an Organic RAW, the initial inhales brought about a rubbery taste with a sharp skunky edge starting off the sesh with hard-hitting pulls. I also received rich soily and earthy terps which complimented those rubbery notes quite nicely. On the way out, the exhales let out a sweeter, but mustier, taste rounding out an all-around enjoyable taste. A little ways in (around quarter way) the hint of sweetness instantly turned mossy and more meatier. The pulls came in hot after distinguished Chem taste graced my presence. Through there on out, the mentioned taste lingered with me until concluding the joint.
About an hour or so in, the medicinal effects seemed to hit their peak as I was extremely scattered in thought and a bit sluggish. This hit with a full on body melt as my thought process continued to dim. For me, this one worked a lot better at night especially after some more grueling days where I didn't want to put much thought in afterwards. The duration was somewhat lengthy too last around an hour and half to two hours. Within the last half hour I felt myself regaining consciousness as my thoughts/perception became a lot more sober. Overall, I think the medicinal effects on the GMO Rootbeer were a lot more impactful than the smoke itself which led to an ultimately positive experience.
After having a chance to try the GMO Rootbeer by Skunkfoot Farms, as well as my first product from them in general, I definitely can tell why people find potential (and enjoyment) in this cultivar. Starting off with the quality on the branded jar as well as the desirable aesthetics on this bud, my first impressions of this cultivar were positive. Mainly, my letdown was that I anticipated more flavor while seshing with this cultivar, however; I believe this was more of a personal thing than a quality issue. While I did think the smell and smoke was a little underwhelming given my expectations, I do think there were some highly captivating features pertaining to both. Especially, if you're smoker who desires those classic Chem/diesel terps with an added funk this will fit you're repertoire. I can't think of anything negative to say about the medicinal effects as they were hard-hitting and long lasting. The ones who will gravitate towards them are most likely going to be those who enjoy more of a crippling high with deep-rooted sedation. Furthermore, those experience any pain-related illness, sleep-related illnesses/narcolepsy, and so on will find relief within the overall experience from this cultivar. I want to thank Pat for allowing me to get my hands on some product from Skunkfoot Farms for the first time after hearing about their accolades and positive reviews. I will definitely keep an eye out for more from them in the future!
Advertisements