Strain Review: Khalifa Kush by FloraCal Farms
Strain: Khalifa Kush
Lineage: Unverified but potentially a South Florida OG Kush cross
Genetic Type: Indica Hybrid
Cannabinoids: Total: 29.61% THC: 26.87% CBD: 2.18%
Breeder: Cookies Fam Genetics
Harvest/Package Date: Cultivated: 12/16/21 Packed: 1/19/22
Cultivator: FloraCal Farms @floracalfarms
Brand: Khalifa Kush @thekhalifakush
Dispensary: Amuse Now @amusenow2.0
Khalifa Kush Cannabis Cultivar (Strain) Review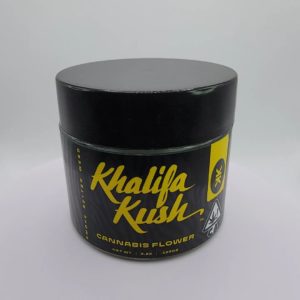 Look: 1 large nug and 3 medium sized nugs brought this 1/8th to 3.51 Gs. Has a classic big chunky and dense Indica structure. Nice cure, nuglets snap off the stem but also maintain a slightly moist stickiness. Dark and mid greens covered in a blonde almost yellow trichomes with long thing orange pistillates weaving their way throughout.
Scent: Got a very strong musty citrus scent when opeing the jar. Followed by a slight gas mostly sour musk, kind of stings the nose, sorta of funky pungent skunk.
Flavor: The inhale has a clean musky slight citrus flavor. The mustiness sort of reminds me of a fresh box of crayons, wax and cardboard. Slight rose floral hints.
Effects: Starts off with a milld head high. My eyelids slowly became heavier the more I smoked. Can feel it slowly creeping throughout the body providing some nice relaxation. Once the high settled in I was very much stuck and feeling sleepy, definitely had a creeping sedation effect and good pain relief.
𝔸𝕝𝕝 𝕡𝕣𝕠𝕕𝕦𝕔𝕥𝕤 𝕡𝕠𝕤𝕥𝕖𝕕 𝕨𝕖𝕣𝕖 𝕠𝕓𝕥𝕒𝕚𝕟𝕖𝕕 𝕗𝕣𝕠𝕞 𝕒 𝕃𝔼𝔾𝔸𝕃/𝕃𝕀ℂ𝔼ℕ𝕊𝔼𝔻 ℂ𝔸𝕃𝕀𝔽𝕆ℝℕ𝕀𝔸 𝔻𝕀𝕊𝕋ℝ𝕀𝔹𝕌𝕋𝕆ℝ 𝕒𝕟𝕕 𝕒𝕣𝕖 𝕤𝕙𝕒𝕣𝕖𝕕 𝕗𝕠𝕣 𝔼𝔻𝕌ℂ𝔸𝕋𝕀𝕆ℕ𝔸𝕃 𝕒𝕟𝕕 𝔻𝕆ℂ𝕌𝕄𝔼ℕ𝕋𝔸𝕋𝕀𝕆ℕ 𝕡𝕦𝕣𝕡𝕠𝕤𝕖𝕤 𝕠𝕟𝕝𝕪. 𝔹𝕖 𝕤𝕦𝕣𝕖 𝕥𝕠 𝕗𝕠𝕝𝕝𝕠𝕨 @NorCalCannaBear 𝕗𝕠𝕣 𝕞𝕠𝕣𝕖!
.
.
.
.
.
#NorCal #CannaBear #TheHighBearNation #CannabisCommunity #CannabisCulture #CannabisReview #WeedReview #TheSmokersClub #420 #420Daily #420Community #PremiumCannabis #LuxuryCannabis #CannabisIndustry #CannabisPics #WeedPics #PotPics #PuffPuffPass #California #CaliforniaDispensary #BayArea #BayAreaCannabis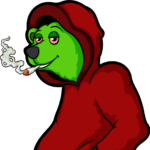 14+ year long Med/Rec Cannabis user from the Bay Area, California. Providing my honest opinion of cannabis products ranging from economical to top shelf. Follow me on Instagram @norcalcannabear
Advertisements