Dab Review: Black MAC Live Rosin by Uncle Mac's
BLACK MAC
Fresh Press Live Rosin
Lineage/Genetics: (MAC 1 x 09 Animal Cookies) x (Gelato x Jet Fuel Gelato) x Açaí Berry Gelato [aka F.A.F.]
Original Breeder: Crane City Cannabis
Grower: Southface Farms
Processor: Uncle Mac's
Distributor: KOTK
Black Mac Live Rosin Review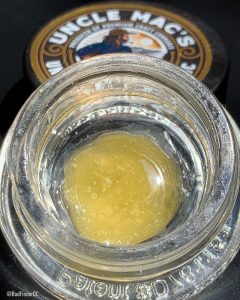 By: @uncle_macs x @southfacefarms
Bred: @cranecitycannabis
Via: @kream.of.the.krop__202
THC: 62.0%
Cannabinoids: 71.21%
Uncle Mac's has now gone two for two for in my book and really knocked this Black Mac out of the park. Big shoutout to KOTK for blessing DC with these gifts.
Black Mac has the ideal fresh press consistency — a translucent, every slightly cloudy yellow-golden sap.
The nose on Black Mac is super intriguing. First whiffs are grape and berry dominant, but there is a definite Mac- like sour, citrusy and doughy musk intermixed.
Pulls at low temp are super flavorful, bursting with grape soda, purple candy and a funky cream which make for an herby, tropical berry smoothie like exhale.
Advertised as a hybrid, I was honestly surprised by Black Mac's potency. Effect went straight to the head and put my mind in the clouds for the next hour or two. Pleasantly stoney and dazey. On the other end, a subtle body melt drains tension and relaxes, but functionality and the will to get up and go remain.
#Budfinder
▂▂▂▂▂▂▂▂▂▂▂▂▂▂▂▂▂▂▂
#dccannabis #dcweed #cannabisculture #marijuana #cannabiscures #strainfinder #thc #strainreviews #puffpuffpass #liverosin #whiteashonly #dopesmoke #topshelf #stoner #wakeandbake #whiteashgang #i71 #smokeweedeveryday #unclemacs #blackmac
Advertisements