Dab Review: Fatso Live Rosin by Papa's Select
FATSO
ᴘʀᴇᴍɪᴜᴍ ʟɪᴠᴇ ʀᴏꜱɪɴ
Lineage/Genetics: 𝙶𝙼𝙾 𝙲𝚘𝚘𝚔𝚒𝚎𝚜 𝚡 𝙻𝚎𝚐𝚎𝚗𝚍 𝙾𝙶
Original Breeder: Cannarado Genetics
Grower: Redwood Valley Farms
Processor: Papa's Select
Distributor: KOTK
Papa's Select Fatso Live Rosin Review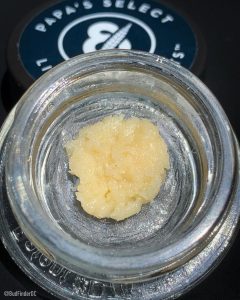 By: @papas_select @redwoodvalley_farms
Via: @kream.of.the.krop__202
Another recent pickup from the KOTK team, this FATSO rosin by Papa's Select has quickly become my go-to, end of the work day stress-killer.
𝔸𝕡𝕡𝕖𝕒𝕣𝕒𝕟𝕔𝕖: Pictured here is the Fatso rosin post-whip, as I received the product after it began buttering up (please pardon the messy jar). The result is a really nice, golden buttermilk, badder-like consistency with wet, glistening complexion. Getting a good picture of concentrates is so much harder that flower 😫
ℕ𝕠𝕤𝕖: The nose on Fatso is as loud as one could expect when GMO meets an OG, and the result is honestly irresistible. The senses are first met with a pungent, rubbery-sweet, "garlic" overtone amplified by a perfumey diesel soaked, floral funk. Notes of lavender and dried citrus peel pop in and out of focus the longer you keep you nose in the jar.
𝔽𝕝𝕒𝕧𝕠𝕣: One of the most intriguing dabs in recent memory, Fatso blends that same diesel heavy profile with creamy-sweet, piney and floral flavors. Between the doughy baking spice courtesy of the GMO cookies and the gassy-sweet Legend OG genetics, Fatso reminds me strongly of a gassy, super funky sugar cookie.
𝔼𝕗𝕗𝕖𝕔𝕥: I didn't even finish the first dab before I began to feel Fatso's onset square in the middle of the forehead and swirling inside my head. Quite literally uplifting, the effects sent my mind soaring and straight into a spacey head fog. Instant mood improvement and notable psychoactive euphoria for the next few hours. Like a warm, inviting blanket over the limbs, Fatso also encourages a significant, but not incapacitating body stone that ends up being more lazy than sedating.
#Budfinder
▂▂▂▂▂▂▂▂▂▂▂▂▂▂▂▂▂▂▂
#dccannabis #dcweed #cannabisculture #marijuana #cannabiscures #strainfinder #thc #strainreviews #puffpuffpass #liverosin #whiteashonly #dopesmoke #topshelf #stoner #wakeandbake #whiteashgang #i71 #GMO #LegendOG #smokeweedeveryday #papasselect #fatso
Advertisements