Dab Review: Guava Dawg Rosin by Kalya Extracts
𝔾𝕌𝔸𝕍𝔸 𝔻𝔸𝕎𝔾
𝟽𝟶𝚞-𝟷𝟸𝟶𝚞 𝚁𝚘𝚜𝚒𝚗
Lineage/Genetics: 𝘚𝘵𝘳𝘢𝘸𝘣𝘦𝘳𝘳𝘺 𝘎𝘶𝘢𝘷𝘢 𝘹 𝘍𝘢𝘵𝘴𝘰
Original Breeder: Unknown
Grower: Tychee Farms
Processor: Kalya Extracts
Distributor: KOTK
Guava Dawg Rosin Review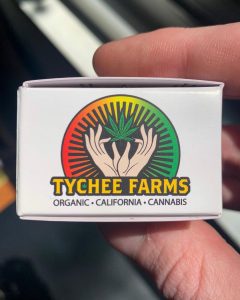 By: @kalyaextracts x @tychee_farms
Via: @kream.of.the.krop__202
𝔸𝕡𝕡𝕖𝕒𝕣𝕒𝕟𝕔𝕖: My gram of Guava Dawg had long committed to a buttered up state, yet the rosin retains a beautiful biscotti colored complexion, paired with a light vanilla marble running up and down the product. A sweaty terpene layer sits atop the Guava Dawg, glistening and sweating in the sun.
ℕ𝕠𝕤𝕖: Popped the jar open and was met with a wonderfully loud and sweet blend of tangy tropical punch, ripe banana, strawberry jam, and Fatso's distinctly funky and creamy diesel.
𝔽𝕝𝕒𝕧𝕠𝕣: Guava Dawg's inhale starts off smooth and sweet, boasting notes of overripe tropical fruit peel and musky/floral Mekong and banana. Less like candy, more like a smoothie/yogurt vibe. The exhale however brings a heavy dose of pine and again, Fatso's gassy-sweet funk.
𝔼𝕗𝕗𝕖𝕔𝕥: I found Guava Dawg to be a strong but well balanced hybrid that sits heavy and pressure-filled on the eyebrow and within the frontal lobe. A distinct head change comes on fast and quick, swiftly instilling a mellow, stoney sense of euphoria paired with mild tension relief and a long lasting, feel good body glow.
#Budfinder
▂▂▂▂▂▂▂▂▂▂▂▂▂▂▂▂▂▂▂
#dccannabis #dcweed #cannabisculture #marijuana #cannabiscures #strainfinder #thc #strainreviews #puffpuffpass #whiteashonly #dopesmoke #topshelf #stoner #wakeandbake #whiteashgang #i71 #hashporn #strawberryguava #fatso #kalya #kalyaextracts #guavadawg
Advertisements