Strain Review: 037 by Trufflez
037
Lineage/Genetics: Unknown
Original Breeder: Trufflez
Grower: Trufflez
Distributor: Dynasty Collective
037 Strain Review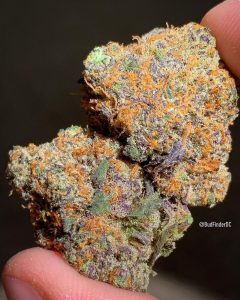 By: @trufflezlifestyle @trufflez_tm
Via: @dynastycollective.inc_ @dynasty.express
Big shoutout to the entire Dynasty team for delivering with this exclusive Truffle strain. 037 arrives in a sealed, leather lined mylar with a QR code, a novel way to stand out and prevent imitation within the luxury cannabis game.
𝔸𝕡𝕡𝕖𝕒𝕣𝕒𝕟𝕔𝕖: My 3.5 of 037 consisted of three equal sized single gram nugs and some small loose buds. Each nug is compact, tight and beefy yet pleasantly soft and sticky upon the hand grind. It's the long, stringy and plentiful semi-neon tangerine orange pistils that first draw the eye. Underneath lies hyacinth and mauve buds flanked and contrasted by emerald green sugar leaves.
ℕ𝕠𝕤𝕖: Easily one of the most memorably fragrant strains I've had in a minute, 037 reeks of a skunky and sour blend of peaches and mango, perfumey lemon menthol and diesel. In particular, the peach terps are all the way dialed in and really stand out as unique.
𝕊𝕞𝕠𝕜𝕖: 037's inhale possesses many of the same elements — sweet, fruity and musky, but the inhale also introduces touches of earthy cream and rubber. Working in perfect harmony, these flavors result in an herby, gassy and sour tropical punch like medley. That cool, fruity menthol hits again, almost giving 037 a "shaved ice" flavor to each hit.
𝔼𝕗𝕗𝕖𝕔𝕥: 037 takes a few short minutes to reach its apex, but the result is well worth any wait. Felt behind the eyes and heavy on the eye brows, 037 has a pressure-filled head rush, yet the mind stays relatively clear and focused, though undeniably unpolished. The body however, mellows out and loosens fast, with a subtle buzzy tingle ever present. Loved this one.
#Budfinder
▂▂▂▂▂▂▂▂▂▂▂▂▂▂▂▂▂▂▂
#dccannabis #dcweed #cannabisculture #marijuana #cannabiscures #strainfinder #thc #strainreviews #puffpuffpass #whiteashonly #dopesmoke #topshelf #stoner #wakeandbake #whiteashgang #i71 #smokeweedeveryday #trufflez #037
Advertisements