Lounge Review: The Summit Lounge in Worcester, MA
This time around we decided to do a review of The Summit Lounge which opened in 2017 and is a 21 + members only club that you can smoke anything thats legal in the state of Massachusetts inside the lounge, it is byob (bring your own bud) and does not sell any cannabis products.
They also offer a cultivation class on the first Wednesday of every month as well as glass blowing classes and a dab class where an expert teaches about concentrates and how to use them, you can also rent their facility for special events.
Address: 116 Water St, Worcester, MA 01604
The Summit Lounge Review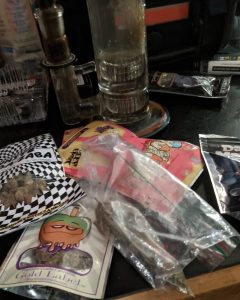 So now let's talk about our visit, upon entering we were welcomed with a beautiful dank scent of cannabis everywhere,it was nice and cozy feeling as you entered the room, a few tables in the front and a window view,bar seating in back,You approach the counter and begin a very smooth membership process, behind the counter is various smoking apparatuses and various rolling papers once check in is done and paid for your set free, the place was at max capacity that night and was absolutely packed.
If you can find a table grab it while you can, we made our way back to a table that our friends had managed to snag. It wasn't very level so we had to keep weight on one side of the table so that it would not rock and every now and than someone would come clear the ashtray which was nice, and they did have house glass to use at no extra fee.
Overall the place was nice, besides the rocky unlevel table there is nothing bad I can really say, it's exactly what is advertised, no hidden agenda, no gimmicks. Just a place where you can get together relax and enjoy some good company over a joint in a social public setting.
We give this establishment 4.0 stars ⭐⭐⭐⭐
I do believe it could use some improvements such as more comfy seating, some more color to the walls, I was thinking a wall for stickers of various brands or even musicians that are local or passing through, but overall we enjoyed ourselves thoroughly and will be back whenever we are in town.
@thesummitlounge_ma keep up the great work there is no experience like this on the east coast and you will only become even better with time, locals and tourists enjoy your time at The Summit Lounge and make sure to Stay Medicated!!!!
Advertisements