Strain Review: 9 Pound Strawberry by Leiffa Grow
Goodmorning canna fam! Let's kick off the day with a bit of bud!
Strain: 9 Pound Strawberry
Genetics: 9 Pound Hammer x Strawberry Cough, making this a unique hybrid!
Aroma: I would describe as fruity and perhaps even a slight menthol, as it permeates freshness and clarity.
Grower: @leiffa_grow
9 Pound Strawberry Strain Review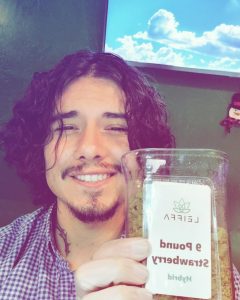 The high: Just what I needed. This was the perfect strain to wind down with after work. I don't always want to go to bed right when I get off, sometimes I just want to chill! This strain kept me slightly active enough to socialize and eat dinner, and then eased me into a great come down allowing me to fall asleep quickly.
Pros: Tasty, smells great, easy going buoyant high with a nice, sleepy come down
Cons: Personally I would refrain from smoking this during a busy day
This strain deserves a place on the top shelf, so I'll give it a 5/5
Remember! Everyone is different. Finding the right high for you takes time and patience 🙏
Happy hunting!
#budreview #strainreview #weedreview
#cannabiscommunity #weedstagram
#weedstayhiigh #420 #weed #pot #kush #weedscience #themoreyouknow #weedsociety #dispensary #dispensarylife #strainhunters
Alejandro Perez is the owner of CannaQuestions, an educational community for cannabis consumers. Find his page on Instagram @cannaquestions, or visit the official website cannaquestionsofficial.com!
Advertisements