Strain Review: Afgan Kush by World of Seeds Bank
Afgan Kush 💜 (Indica)
Lineage/Genetics: Hindu Kush
Original Breeder: World of Seeds Bank
Afgan Kush Strain Review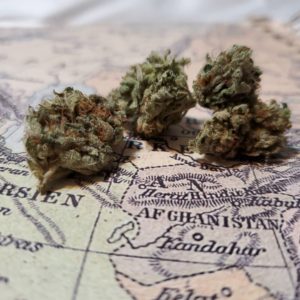 THCA 26.76%
THC 23.86%
This straim is very lukely to make a potato of you. I tried it in my pipe and as a blunt, booth great feelings. If i would of tried a blunt with this strain, I DEFINITELY would of been couch locked. Regardless, Afgan Kush will make a potato of you.
It sooths your body, and the mayority of your pains, also gives you a slight euphoric feel.
Pretty good to watch a movie (I'm watching Tom and Jerry catroons )
Potentially could activate arousal and/or munchies.
I would definitely recomend this to smoke while having a lazy day in with your lover. And what better time than now in quarantine.
Stay home you guys.
Stay safe. .
.
.
.
.
.
.
#stonergirl #cannabiscommunity #cannabis #cannabisculture #cannabispr #weed #marijuana #weedblog #weedlife #weedporn #weedgirls #ganjagal #headintheclouds #weedreview
#420everyday #weedstagram420 #weedsociety #cannabisenthusiast #cannabisbabes #smokeweed #smoke #420community
Advertisements