Strain Review: Alien Rock Candy (ARC) by aeriz
This 👽 Alien Rock Candy (ARC) 🍬 from @aerizusa took the edge off after just three hits!
Lineage/Genetics: Sour Dubble x Tahoe Alien
Original Breeder: Alien Genetics
Grower: aeriz
Dispensary: The Herbal Care Center
Alien Rock Candy (ARC) Strain Review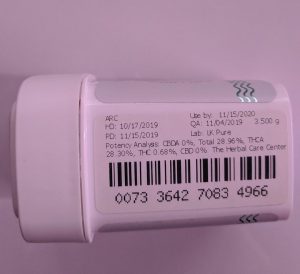 The smoke was smooth and it had a slightly sweet flavor, hence the name. This indica-dominant hybrid is perfect for easing into your evening or prepping for a good night's rest. I really like Aeriz because their flower is grown aeroponically, ( 🤯 science-y way of saying grown with a recyclable medium instead of soil), and I can taste the difference. ⁠
THCa: 28.30%
THC: 0.68%
.⁠⠀
.⁠⠀
.⁠⠀
.⁠⠀
.⁠⠀
#cannabiscommunity #illinoiscannabiscommunity #chicagocannabis #chicagocannabiscommunity #flower #ilmmj #topshelflife #cannabisphotography #weedphotography #womenofcannabis #womenwhosmoke #stoner #maryjane #hightimes #nugshot #nuglife #weshouldsmoke #strainreview #chicago #sativa #hybrid #indica #aeriz #aerizusa #blackwomeninweed #cannabis #smokeweedeveryday #alienrockcandy