Strain Review: Berner's Cookies by DC Pharm
Berner's Cookies (80/20 Sativa leaning Hybrid) via @d.c.pharm
Lineage/Genetics: GSC x Unknown Sativa
Original Breeder: Berner
Grower: DC Pharm
Berner's Cookies Strain Review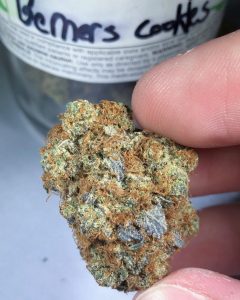 This is my second time trying Berner's Cookies, and the strain truly doesn't disappoint.
Berner's is a beautiful strain, highlighted by fiery orange hairs and lavender undertones. The orange pistols are falllling off the bud, and it makes for an incredible pleasant nutty smell and colorful grind.
This strain has the familiar earthy Cookies taste upon inhalation, but Berner's strong vanilla malt flavor adds a smoothness other Cookie strains lack.
Berner's certainly creeps up on you, taking a few minutes to reach full effect. Simply put, this strain sets a great tone via a euphoric, happy, sociable, and mildly energizing effect.
Berner's is an absolute treat, and @d.c.pharm impressed once again with their menu and service. #bernercookies #berner
•
•
•
•
#dcbud #dc420 #420 #dcweed #mdweed #stoner #marijuana #legalizedweed #dccannabisculture #strain #strainfinder #thc #dcgrown #dcgrowers #cannabisdaily #dccannabis #dcdabbers #dcedibles #puffpuffpass #dcnightlife #dmv420 #topshelf #devilslettuce #stoner #whiteashonly