Strain Review: Dosicake by Archive Seeds
DOSICAKE
Lineage/Genetics: Wedding Cake x Dosidos
Original Breeder: Archive Seeds
Grower: Cali Sour Pack
DosiCake Strain Review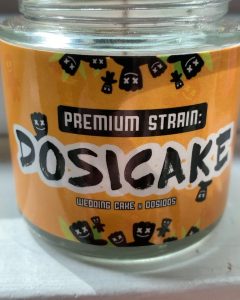 Indica Dominant Hybrid
Dosicake's lineage alone had me dying to try this strain, as Wedding Cake and Dosidos are some of my all time favorites. Their offspring certainly did not disappoint.
This cut of Dosicake seemed to reap the best of both its parents. On the outside, Dosicake more closely resembles Dosidos, boasting deep lavender buds and bright pistils, while retaining Wedding Cake's frosty trichomes and pale green hues. No filter needed for this strain.
Dosicake has a malty, earthy taste with notes of spice and just a hint of vanilla. Less sweet than I expected, but rich and certainly very tasty, and very flavorful.
Sour Packs Dosicake reportedly sits at an incredible 28% thc, and certainly smokes like it. This strain is strong, and provides a stoney indica couchlock which starts in the face and melts into full body relaxation.
10/10 Dosicake is an absolute treat. Special thanks and shoutout to both @calisourpack and @georgetownflavorsrep
#Budfinder
•
•
•
•
#dcbud #dc420 #420 #dcweed #mdweed #stoner #marijuana #legalizedweed #dccannabisculture #strain #strainfinder #thc #dcgrown #dcgrowers #cannabisdaily #dccannabis #dcdabbers #dcedibles #puffpuffpass #dcnightlife #dmv420 #topshelf #devilslettuce #stoner #whiteashonly #cleanmeds
Advertisements