Strain Review: Black Orchid by Wonderbrett
🚨 New Review 🚨
@wonderbrett_ .
Black Orchid #blackorchid .- 24%THC
Lineage/Genetics: Gelato x OG Kush (1996 cut)
Indica or Sativa: Indica dominant Hybrid
Original Breeder: Wonderbrett
Grower: Wonderbrett
Black Orchid Strain Review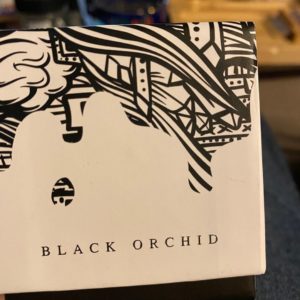 Comments:
To the top shelf we go! Been following them on IG, seen a lot of good things and honestly, gotta just say fuck it.
Review:
1. Scent: Kushy savory fruit comes to mind. Mouth watery and a little bit of berry maybe and of course some pine.
2. Appearance: Money nug after money nug. They look beautiful with purple green and red hues. There was one spot I zoomed in on that had a little black sprite but it wasn't anything. Not a bug or mold, just a spot. 🤔
3. Nug Structure: Great nubby kolas falling off the stem with ease. Didn't need the grinder at all this time. Would be a good strain to squish but I'd rather burn the flower.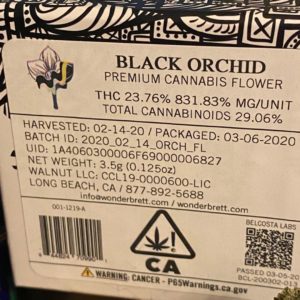 4. Smoke: Smooth not harsh off the bubbler. Ripping the bong was a little different tho as we fucked with the water and ice levels a few times. All in all good, solid, clean rips. Coughing for sure 🤗
5. Taste: Kush fruit. You feel those gelato notes of sweetness but the pine off the kush is present the entire time. Great vibes and it really shines if ya take a few sips of ice water after a rip. Maybe it's the cotton mouth out the water right after a hit brings out more flavor. Will try this method a few times in the future…🤔
6. Reaction: Clear headed, mostly, but slightly droopy eyes as the time passes. Now about 30 mins later I'm rearranging apps on my phone pretty stuck in one position. Lol! Hunger pangs have now hit about an hour in. Would buy again and the lab test QR code gives the paranoid stoner in me piece of mind.
#cannabiscommunity #cannabis #cannabisreviews #trees #weed #weedreviews #pot #potreviews #marijuana #marijuanareviews #thc #sacramento #916 #420 #yee #legal #blackorchid #notMidz