Strain Review: Blue Dream from Liberty Health Sciences
LHS: Blue Dream- Sativa
THC: 17.5%
Lineage/Genetics: Blueberry x Haze
Original Breeder: Unknown
Grower: Liberty Health Sciences
Dispensary: Liberty Health Sciences
Blue Dream Strain Review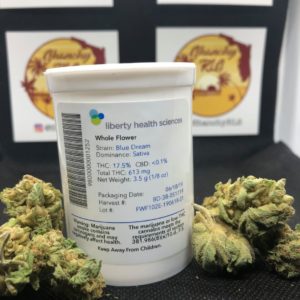 Recommended time of use: Any time of day, except night time, if you are trying to go to sleep, but if you want to stay up and about, then this is the strain for you.
Head: This is a very happy and euphoric strain. Shortly after medicating I had a big smile across my face. One which did not bring me anxiety or jitteriness which I usually get from full on sativa strains, as they tend to trigger my RLS sometimes.
Body: I did not feel any noticeable effects to my body in the sense of sedative effects, as well as pain relieving, as I still had most of my previous bodily discomfort and pains.
Creativity/talkative: In my opinion, this is where this strain shines, I was very talkative, and I actually felt very creative to try and do things. This strains makes you really outgoing and somewhat adventurous.
Hunger: Because of its sativa qualities, the side effects of this strain do no present themselves in the for of munchies, so worry not. With that said, this strain would mostly benefit one who is an active person, and wanting to enjoy performing task that involve a person to being active. .
.
.
.
.
#gethighwithme #mainecannabis #weedtube #travel #naturephotography #photography #smoke #weedporn #indoorgrown #thc #high #scenery #stonedaf #cannabisstrains #cannasseur #marijuana #cannalife #710girls #shatterday #420 #blazeit #stoned #420daily #cannabiscommunity #stonerchicksdoitbetter #nature #stoner #420babe #love #cannabisculture
Advertisements