Strain Review: Super A5 from Liberty Health Sciences
Super A5 – Hybrid strain
Thc: 20.2%
Lineage/Genetics: Northern Lights x Haze
Original Breeder: Sensi Seeds
Grower: Liberty Health Sciences
Dispensary: Liberty Health Sciences
Super A5 Strain Review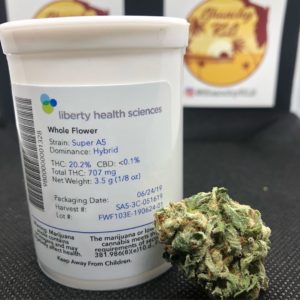 Condition/symptoms: Stress, muscle tension, insomnia, migraines, acute pain
Recommended time of use: night time and late afternoon use forsure, I underestimated this strain as the price was wayyyy too good to pass up. Let me say after smoking a nice blunt, all i remember i waking up about 45 minutes later, I took a nice nap in my hammock 😍🥰 Head: my thoughts slowed down, I did not feel any stress. My thoughts were not fighting one another, and my overthinking due to my anxiety was suppressed so much that this strain helped me sleep. I would recommend this strain to anyone who has social anxiety or any type of anxiety as it eases the "what if" feelings.
Body: this strain is heavy on the body and the effects onset rather quickly, I would definately use this strain to sleep as it gives you a very nice loose yet enjoyable non-couch lock feeling after you wake up if you are still medicated
Creativity/talkative: not very talkative at the moment, not feeling creative, I just feel good, no worries no stress, no anxiety, this strain allows me to go about my day after waking up 😅. This strain is said to increase creativity levels if ingested in smaller amounts to feel more of the Sativa part of the strain.
Hunger: not very hungry, the munchies have no kicked in yet.
Update: this strain did not give me a heavy starving feeling, yet it made it easy to feel satisfied with little to no food. .
.
.
.
.
Ignore hashtags 😅👎🏼
.
.
.
.
.
.
#sunshine #cannabis #cannabisphotography #cannabiseducation #cannabiscommunity #420daily #medicalmarijuana #greenmedicine #marijuana #mmj #cbd #thc #flower #instaweed #stayhigh #weedstagram #stoned #cannabisculture #cannabisreviews #weedreviews #stonersdaily #reviews #cannabisreviewer #hybridweed #cannabislove #flowerfriday #libertyhealthsciences
Advertisements