Strain Review: Bubba OG by Galenas
Bubba OG Review
Lineage/Genetics: Pre-98 Bubba Kush x Ghost OG
Original Breeder: Dr. Greenthumb Seeds
Grower: Galenas
Bubba OG Strain Review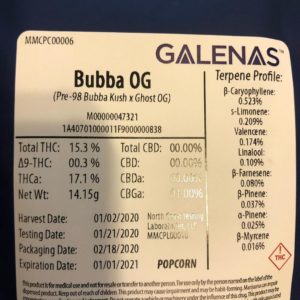 Grown by @galenascannabis these popcorn buds of Bubba OG are terpy as can be, with the scents of sweet oranges, flowers, and dank weed bursting out of the bag. Though only coming in at 15%, don't let that fool you- it packs a nice spacy punch due to terpene cocktail of caryophyllene, limonene, valencene, and linalool. The caryophyllene doesn't so much add a peppery taste, as it seems to get covered by the limonene and valencene and simply warms your tongue and palette with each inhale.
Instead, that same sweet orange taste comes through just as expected from the smell. Effects wise it's rather spacy with a comfortable, and ultimately sedating couch lock-classic indica. This is my first bag from galenas and I'm pretty impressed, despite what is a slightly stemmy bunch of small and very dry buds. Because- the effects are far better than what I expected, as is the flavor and smell.
They're a certified kind grower, meaning completely organic, and if the terpenes are that strong after being THAT dry- it may very well be worth it.
#cannabis #cannabiscures #ohiochronic #galenascannabis #marijuanareviews #cannabisreviews #bud #popcornnugs #420everyday #cannabiscommunity #marijuana #weedreviews #terpenes #trichomes #certifiedkind
Advertisements