Strain Review: Banana Hammock by Galenas
Banana Hammock Review:
Lineage/Genetics: Grape God x Mandarin Sunset
Indica or Sativa: Indica dominant hybrid
Original Breeder: Ethos Genetics
Grower: Galenas
Banana Hammock Strain Review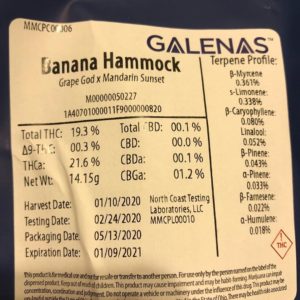 Grown by @galenascannabis, Banana Hammock is an indica dominant hybrid created by crossing Grape God x Mandarin Sunset. Though the expected purple buds mentioned on major review sites didn't appear in my bag, I was nevertheless impressed and happy with the buds, including that monster 3.19g bud. The flower itself wasn't too dry, but not that classic sticky icky by any means.
The green flowers are covered in bright orange hairs and yellowish trichomes large and plentiful enough to easily be seen. Something that seems to be indicative of Galenas flower- it has a light, delicate smell out of the bag that instantly reminded me of their 10th planet, and oddly enough a Quonset Hut. That delicate smell is earthy, sweet, with hints of berry that really come through nicely when you taste it.
The smoke is a bit on the rougher side, so expect some coughing. Effects wise it begins rather euphorically with a nice head high that descended into the body after a good 30 minutes. After the euphoria clears a deep sense of relaxation come in, effectively lulling you to sleep. While probably best at night, if you use it during the day get up and start your project in the beginning head high, and you'll avoid the couch lock.
Testing at 19.3% THC, .1% CBD, and 1.2% CBGa, this medicinal powerhouse with an extensive terp profile can definitely help inflammation, stress, anxiety, insomnia, and both arthritic and muscular pain. All in all, this bud is a good indicator of why @galenascannabis is #certifiedkind.
#cannabis #cannabisreviews #cannabiscures #ohiochronic #ohmmj #ohiocannabis #galenascannabis #trichomes #thc #terpenesmatter #cbg #weedreviews #budreviews
Advertisements