Strain Review: Triple Chocolate Chip by GrowOhio
Triple Chocolate Chip Review
Lineage/Genetics: Mint Chocolate Chip x Triple OG
Indica or Sativa: Indica dominant Hybrid
Original Breeder: Exotic Genetix
Grower: GrowOhio
GrowOhio Triple Chocolate Chip Strain Review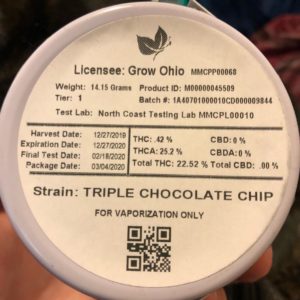 Grown by GrowOhio, this cross between Mint Chocolate Chip x Triple OG packs a potent, relaxed punch. Smelling of gas with a hint of earth and sweet berry it's a tasty and smelly treat. Dominant terpenes are Caryophyllene, Farnesene, and Limonene.
Cured well and not dry, the larger than expected buds filled the pack to the brim with its bright green flowers with touches of purple and darker orange hairs. Effects are classic indica- a potent, stony, 'duh, what?' kind of head high with a decent amount of physical relaxation.
Perfect for evening sessions looking for relief from pain, stress, insomnia, stomach problems, and probably inflammation. This batch comes in at a nice 22.52%.
#growohio #cannabisreviews #weedreviews #ohiochronic #bud #cannabiscures #420 #420everyday #thc #marijuana #cannabiscommunity #ohioweedstrains #ohiomedicalmarijuana