Vape Review: Wonka Bars Vape Pen by Firelands Scientific
Wonka Bars Vape Pen review
Lineage/Genetics: GMO x Mint Chocolate Chip
Indica or Sativa: Sativa dominant hybrid
Original Breeder: Exotic Genetix
Grower: Firelands Scientific
Processor: Firelands Scientific
Wonka Bars Vape Pen Review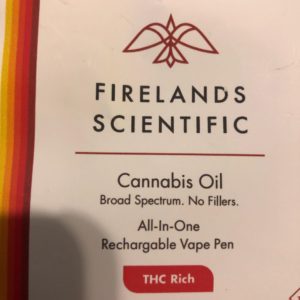 Grown and processed by @firelandsscientific this Wonka Bars sativa dominant vape is delicious and smooth. The lemony, earthy taste brightens up your tastebuds as you exhale and feel the euphoria instantly begin to creep in.
It's not exactly energizing, but has no sedative effects and brings if not a physical relaxation, a definite emotional one. I'm super happy with my early 4/20 gift to myself. This oil is a full spectrum CO2 extraction resulting in a nice honey color extract that gets washed out in my phone camera and my warm colored room lighting.
The few things I will say I dislike- the light on the battery is too small to see when taking a hit, so I'm never sure if I've activated the battery with each draw until I feel it in my lungs- which is too late to stop inhaling if I don't want to hack up a lung.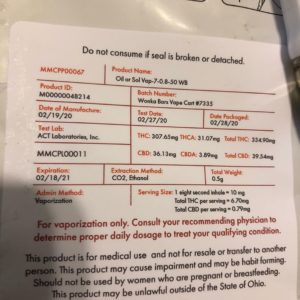 Also, though it's marketed as a rechargeable pen, they gave me no charger. This speaks to the larger cart problem in Ohio- by now we've all got batteries- let us buy just the cart and stop wasting batteries! Other than that, it's a great pen with a tasty, potent oil.
#cannabis #cannabiscures #vape #concentrates #supercriticalco2 #thc #cbd #ohiochronic #ohiomarijuana #firelandsscientific #fullspectrum